Stuart Loudon Interview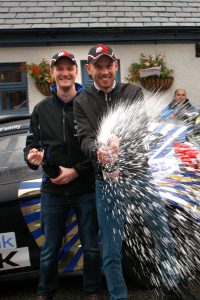 Before the Presentation Ceremony in the Aros Hall in Tobermory, winning co-driver Stuart Loudon spoke to Jim McGill about how tough the rally was; the subdued build-up to the final stage shoot-out; navigating by the light of his mobile phone … and those private emotional moments in the car with John MacCrone seconds after it was confirmed they had won the Beatson's Mull Rally for a second time
JM: Congratulations Stuart: great win. How tough, from your perspective, have the last three days been?
SL: It was a very good rally, very well run by the organisers, considering the issues they had with stoppages and stuff.
It's probably one of he toughest rallies I've ever done, certainly in relation to the conditions. Plus we had the clutch starting to go on Friday night, and then the driveshaft at the beginning of the final leg.
Then, as if that wasn't enough, on the start line for the final stage the map light broke, so I didn't have a map light to read the notes all he way through the last, crucial 15 miles.
Basically I had to lock my phone and use the light which was coming off the screen from the phone to read the notes. Let's say, it was interesting.
JM: How did you prep for the final stage?
SL: We parked-up about a mile-and-a-half away from the start of the stage, and it was just us, and Calum and iain. It was very subdued; very quiet. We just chatted away amongst ourselves. Then there was a shake of the hands, and a 'good luck'. Then go for it and get our heads down.
It was one of those moments where we knew what we had to do; just keep clean and tidy. And we were hoping that when we got to the start of the stage there wasn't going to be a big delay, because we'd been caught out with that before.
But we were lucky: we got to the start of the stage and we were straight in within a few minutes, which meant everything was warm and working well … apart from the map light.
JM: Did the stage then go as planned?
SL: Yeh, it did. We had no moments at all, apart from one slight one near the end of the Lochs, but nothing really to write home about. It was pretty safe. A very, very measured drive from John.
JM: From your perspective Stuart, and you know John probably more than anyone in terms of being in a car, how difficult have these last three days been for him?
SL: We've spoken about it, and he's said it's been the toughest rally he's ever done. And I don't think that's just physically; I think that's mentally and emotionally too.
But you look at — and of course, this is the second time we've won — the first time we won in 2013, and everything went in our favour. Calum went our very early-on on the Friday night, and then the weather that weekend was bone dry.
This weekend we've had terrible weather conditions; we've had Calum on great form in his new car; and then we've had some mechanical gremlins as well.
But it's just showed that John has the mental strength to be able to block out those things and just keep the head focused on the job.
JM: And clearly the release of John's emotions at the end, once you both came through the finish line; those few minutes in the car with him must have been pretty special.
SL: Yeh, it was. And that's one thing from the start of the rally, right up until we arrived down in Tobermory at the end of the final stage, there had been no emotion. There had been nothing like that. We were there to do a job, and that was it.
But then once we came over the finish, and it all basically became real and we knew we'd won, that's when the emotion started.
It was very special. But it was just one of those things we just had to have between ourselves.
The good thing was, everyone knew what was going on, and what John had come through: there was a huge amount of respect from everybody who gave us the time, and didn't automatically pull the doors open.
We have to thank everybody for that. It really was a fantastic, and very special moment.
Photos: Copyright of Lindsay Photo Sport