John MacCrone Interview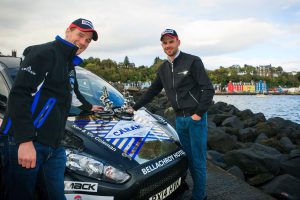 MULL RALLY WINNER — JOHN MacCRONE INTERVIEW
Before the Presentation Ceremony in the Aros Hall in Tobermory, winning driver John MacCrone spoke to Jim McGill about how this year's Beatson's Mull Rally was the toughest he's ever tackled; dealing with the rally loop-by-loop; having to create a whole new set of pacesnotes after his originals were destroyed; the challenges he faced over the last 12 months; and the importance of friends, family and Muileachs.
JM: How tough have the last three days been physically and emotionally?
JMac: It was a massive challenge. There's no doubt it's been difficult. I came into the rally with a game plan, and we stuck to that from the first to the last stage. We knew it was going to be a long, hard event, so we knew we didn't necessarily have to push 100% everywhere, so that's what we tried to do.
The conditions were hellish. They were so changeable; one minute it was dry; the next there were streams running across the road. D-Mack did a good job for us: we've used just about every compound they have.
JM: I imagine that's the toughest one you've done?
JMac: Aye; it was really hard. After last year, it was important for me to be here and do it. It was difficult.
JM: How difficult was it mentally to deal with?
JMac: No doubt about it, it was difficult. It's something which has affected my life a lot: and in little ways you don't think about sometimes. I just knew I had to be here to do it.
We got the deal together with Stuart and Tunnock's, and D-Mack. That was the first hurdle overcome: then we had to go out and see how we got on.
JM: But dealing with what happened last year must have added another severe test?
JMac: At the back of my mind, all the time, is what happened last year. When you're rallying you're not thinking about stuff like that, but it's always there. This is something that's happened which will never go away, and in many ways it's surreal.
JM: Did you start the rally taking it one stage at a time?
JMac: Perhaps on Friday night, but overall not really: on the Saturday we were concentrating on each loop of three stages at a time. Probably the biggest drama for us was the front-left driveshaft we broke on the long stage; I honestly thought it was all over at that point.
It happened six miles from the end of the stage, so we still had a long way to go; plus we had another two stages to go before Service.
JM: How good were the guys changing the driveshaft?
JMac: Incredible. And you've got to remember they did it in the dark, it was at the side of the road, and they didn't have all their tools. And they did it in just under three minutes. That allowed us to check-in on-time, and not pick up a penalty which would have ruined our hopes of winning.
JM: How did you prepare for the final stage?
JMac: Just like all the others really. We knew it was going to be slippy, so we eased ourselves into it with the tyres. The bit over the Lochs we had a little bit of a go. It was just a case of being clean and fast.
JM: If you can, can you give us an insight into your emotions once you'd crossed the line and realised you had won.
JMac: We'd been concentrating on doing the rally for however long we'd been doing it; certainly many months ago. All that's on your mind is to … well, first of all, get a car and a deal together, which is never an easy thing to do in the first place, as you know.
Then you think about pacenotes. I had to write a whole new set of pacenotes this year because all my notes got destroyed last year in the car, so it was essentially starting again from a blank canvas.
I went out with my brother Alasdair, and uncle Peter before the rally to write new ones, because Stuart was really busy before the rally at — I think — San Marino; so he was away. So I wrote new notes with them.
Then, obviously you start the rally. You're trying to do the best you can all the time. Like I said before to you, because we were leading we were never chasing, so we were always having to manage our pace.
We weren't going flat out: we were concentrating on going at a pace which is safe, you're not going to do any damage, but it still has to be fast enough not to lose too much time. So you're concentrating on that.
But then, once we got to the end and realised we'd done it, it was just a big release of emotion. Just a … the bigger world all kind of becomes real again.
JM: For everyone who is part of the Mull Rally, they could fully understand — well, only begin to feel we understand — what emotions you must have been experiencing sitting in the car with Stuart at the end.
JMac: For me, last year is still a surreal experience; it's still something you think, 'did that really happen? Was that real life?'
To come back for the first time, a year after what happened, to win the rally is an absolute dream come true. It's the absolute best thing that could have happened to me.
JM: Was there a feeling that it marked the end of one phase, and the start of another in your life?
Mac: Yeh, I think so. It's definitely been something which has affected me all year. Even doing the Scottish Championship; a lot of people tipped us to go well, but I knew it was going to be a struggle to come back … and go fast straightaway.
My bottle on some of the fast sections has definitely … last year happened on a fast section … and to come back and drive fast, in the fast sections was a massive challenge, to be honest.
I took a massive knock to my confidence; you wonder about your pacenotes; you wonder about the car; you wonder about your tyres; you wonder if everything's going to work ok? Then you start wondering, what if this happens?
So we had to build that up over the year. And it's all come together for Mull, and that feels to me like the best place for it all to have made sense.
JM: Finally John, how important has the support of all the people on Mull been to you over the last 12 months?
JMac: The support from Mull has been incredible. My family and my friends have had to put up with a lot from me: I'm probably not the most straightforward person in the world, I can be quite complicated at times … but everybody stood by me and supported me 100%.
Even all the competitors; all the guys I was up against, they all wished me well, and it feels quite special, to have managed to do what we've done and I don't feel I'm alone in enjoying this success. It feels like quite a widespread thing, so I'm obviously very, very happy.
Photos: Copyright of Lindsay Photo Sport