Finally Fergus! Barlow claims Beatson's Building Supplies Mull Rally win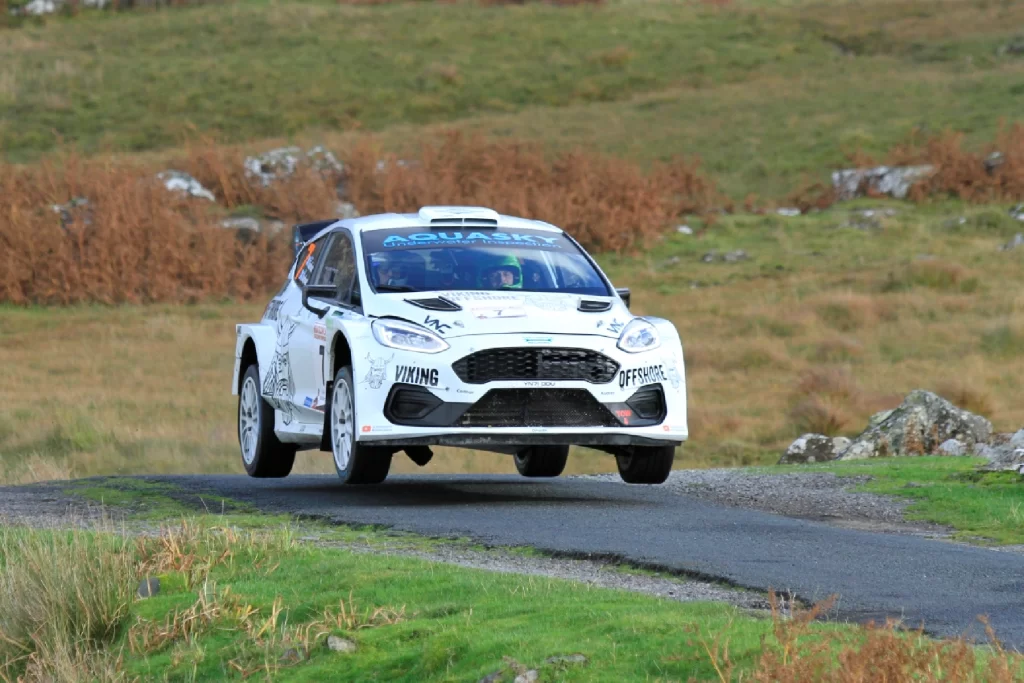 Tobermory driver Fergus Barlow fulfilled a "boyhood dream" to win his home rally, by taking victory at the weekend's Beatson's Building Supplies Mull Rally [13-15 October].
After seventeen stages and over 134 miles of competitive action, it was the local hero and co-driving brother Craig [all the way from New Zealand] who jumped onto the roof of their Ford Fiesta Rally2 in front of a packed-out crowd at the finish to celebrate, with emotions high and friends and family eager to congratulate the pairing.
It was a hard-fought victory too, battling against the island's unique weather system, the gruelling roads and some of the fastest asphalt drivers in the UK, the pairing kept a level head whilst others faltered to finally seal the win they had been longing for.
"That's bloody amazing" he shouted as he arrived in Tobermory.
"I can't believe it, I actually can't believe it, oh my god" was as much as he could muster for a while. And who could blame him?
"I knew I had to get through it, I knew I had a minute gap, I wasn't going to let him [James Ford] past – don't tell him that" he continues.
"It's been such a huge effort to get us here by so many people, firstly Aquasky and our title sponsor Viking Offshore who came and saved the day and made this happen, especially Craig [Barlow] who was the biggest part of this.
"We were in the Tob' Hotel last year and he was like, right Gus, R5 next year; and I'm like, I can't make that happen; I don't have thirty grand [to compete in a top-line car]. But we got to the start, we got to the finish and here we are!"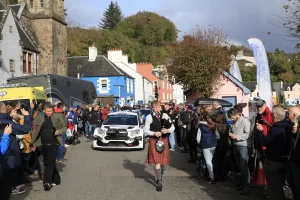 But it wasn't always looking like Barlow would lead the now traditional Scottish piper-led procession down Tobermory high-street on Sunday afternoon. In fact, at one point, he was over 43 seconds down on the rally leader and fellow islander John MacCrone, who had settled perfectly back into top-flight Rally2 machinery after a spell in a Ford Escort MKII.
MacCrone, from Dervaig and Dai Roberts produced a breathtaking Mull masterclass over the opening loop on Friday, going a staggering 21 seconds faster than anyone else over the Hill Road / Glen Aros test in the dark to head to bed with a comfortable lead over two-time winners Daniel Harper and Chris Campbell in their MINI JCW WRC.
Harper had a brief spell out front but was dealing with a fuel pressure issue and whilst the car was performing well enough, a stall could spell disaster as the MINI was unlikely to re-start.
Saturday was split into two legs, the opening loop of six tests in the daylight, before a short break and back out into the night with eight stages and over 63 unrelenting miles in store. And it was MacCrone who was back at it with two scratch times to kick off the day. But disaster struck on the Black Rose stage when the engine in his Fiesta Rally2 lost all power and he would fail to emerge from service.
That promoted Harper to the lead; and it was a comfortable one over Barlow, some 39 seconds in hand. In the meantime, Barlow was a model of consistency. Knowing when and where to push, he knew that biding his time reaps rewards on Mull; it's a marathon, not a sprint.
He didn't have to wait long either. Just three stages into the final leg, Harper emerged from the end of the stage with a collapsed front wheel bearing and whilst he limped towards the next test, he was forced out on the road section, giving the Mull Rally a new leader in Barlow. A mature drive over the final loop saw the 30-year-old keep the now-chasing James Ford and Neil Shanks at bay in their Citroen C3 Rally2, to take that much longed-for rally win.
"My heart is going actually" said Barlow as he collected the Mull Rally trophy.
"It's not real, it's just not real. It's going to slowly sink in, but I cant actually believe it. It's a real boyhood dream [to win].
"Thirteen years ago, I was in the crowd, following the cars and piper down the main street, thinking I'll be there one day; we can make it happen. Thanks to all the help we had, here we are".
Interestingly, this was the first time the rally has seen a brand-new winner since MacCrone's 2013 victory, with Calum Duffy, Paul MacKinnon and Daniel Harper all taking the spoils ever since.
Whilst Ford has contested Mull before, it was never in front-running machinery but a season in the Irish Tarmac Championship played dividends on this attempt, taking second overall after a largely trouble-free run.
Neil Roskell survived a late scare in his Fiesta Rally2 to take third overall and round out the podium with Andrew Roughead on the notes. A puncture hampered progress during Saturday but worse was to come when the team were forced to change the gearbox in the final service. But a swift replacement ensured they didn't drop any time, to take an impressive result on Roskell's second attempt at the rally.
Scott MacBeth/Hannah McKillop returned a giant-killing performance in their Mitsubishi Evo IX to take a staggering fourth overall and the Class 2 victory, whilst Jonathan Mounsey/Richard Wardle rounded out the top five in their Fiesta Rally2 and the Class 1 win.
Stephen Thompson/Larry Higton enjoyed the marker as the leading two-wheel-drive crew, taking their Ford Escort MKII to seventh overall and the Class 3 in the process. Stewart Morrison/Johnny Baird claimed Class 4 in their Escort MKII, with Des Campbell/Craig Forsyth hurling their wee Peugeot 206 around the Mull lanes to a creditable 12th overall and Class 5 win.
Tobermory's Ally Currie and Oban's Alex Hill sealed Class 6 with an impressive drive in their Peugeot 106, taking 21st overall and beating a huge amount of more powerful machinery in the process.
Paul Daniel/Glyn Thomas bagged the historic H3/H4/H5 Class win in their Escort MKII whilst Tony Shields/Graham Wild took H1/H2 in their Escort RS1600.
"Once again, it's so hard to put everything into words," said Clerk of the Course, Richard Crozier.
"Many people don't realise just what a huge effort it is to put on such a great rally of this size, and the work that this team has done, year on year just never fails to amaze me. Sleep is overrated anyway, but it's the smiles on everyone's faces and the joy it brings to the island that keeps us coming back for more and doing our very best to deliver a rally to remember.
"Mull is unique. The rally is unique, there is truly nothing else quite like it and that is what makes it like a drug that we just can't stop taking.
"The whole team and I owe a huge thank you to every volunteer and marshal who helped make the rally run so smoothly once again, they are all heroes in my eyes. And my heartfelt thanks to Beatson's Building Supplies, John Marshall and Ross Marshall for once again sponsoring the event, as well as all the rally supporters, partners and local authorities who put in so much valuable support.
"I've already got some thoughts on next year's event. Pop the 11th – 13th October 2024 in your diaries. You're not going to want to miss this one…"