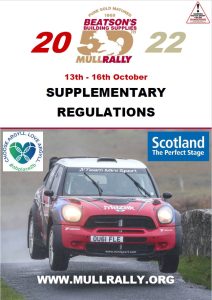 Supplementary regulations for the 2022 Beatson's Building Supplies Mull Rally were released on 13th July, and can be downloaded from via the following link:
Mull-Rally-2022-Regulations (pdf)
This year sees a cause for celebration – the 50th running of our annual rally event on Mull.
As such, after a few years of a largely unchanged route, this year's itinerary includes a few special additions to mark the occasion, and other subtle changes to keep things fresh. The main features of recent years remain: "Rally Zone" spectator area at the Glengorm crossroads in Tobermory on all three legs, and the final flat out run up Glen Aros and over the Mishnish Lochs to Tobermory for the final control in Ledaig Car Park. These are supplemented by the return – for the first time since 2014 – of the popular Tobermory town stage.
In a further nod to the event's history, "The Long One" this year becomes "The Very Long One" –
30 miles of Loch Tuath / Calgary Bay / Glen Aros, last run as a "selective" in the 1980s. The successful shakedown at Duart Castle moves to Thursday, to help spread the load for our hardworking marshals, retaining 2 sessions to accommodate more competitors.
As always, our thanks to John & Ross Marshall of Beatson's Building Supplies for sticking by the event and giving us their continued support, to everyone on the island for letting us use their roads and to all the support facilities and marshals who ensure that the sport can take place safely. Thanks also to Argyll & Bute Council and Police Scotland for their pro-active support in
helping us to organise the event. We are also grateful for the ongoing support of Event Scotland, which recognises the global reach of the Mull Rally.
Entries will open at 19:30 on Friday 5th August.
We look forward to welcoming you all to Mull over the weekend of 13th – 16th October, and to continuing the legacy that is rallying on this special island.