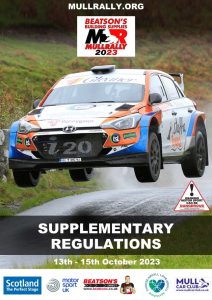 Supplementary regulations for the 2023 Beatson's Building Supplies Mull Rally were released on 13th July, and can be downloaded from via the following link:
As always, our thanks to John & Ross Marshall of Beatson's Building Supplies for sticking by the event and giving us their continued support, to everyone on the island for letting us use their roads and to all the support facilities and marshals who ensure that the sport can take place safely. Thanks also to Argyll & Bute Council and Police Scotland for their pro-active support in
helping us to organise the event. We are also grateful for the ongoing support of Event Scotland, which recognises the global reach of the Mull Rally.
Entries will open at 19:30 on Friday 4th August.
We look forward to welcoming you all to Mull over the weekend of 13th – 15th October, and to continuing the legacy that is rallying on this special island.