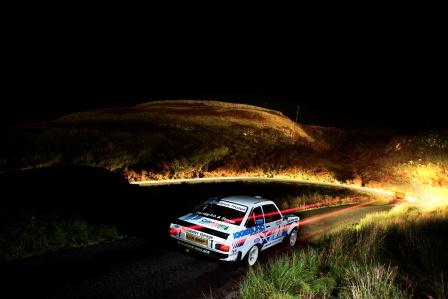 Tunnock's Mull Rally News — Quotes & Positions after SS11:
Overnight leader Calum Duffy extended his advantage on the Tunnock's Mull Rally after the opening two stages today.
John Cope was fastest thru SS10, John MacCrone fastest in SS11. Duffy extended lead over Tony Bardy to 1min 53secs. MacCrone just 4s off 2rd & 34s from Daniel Harper in 4th.
Tunnock's Mull Rally — Overall Top 10 after SS11 of 17:
1. Calum Duffy 1hr 10mins 59secs;
2. Tony Bardy +1min 53secs;
3. John MacCrone +1.57s;
4. Daniel Harper +2.30s;
5. Jonathan Mounsey +3.07s;
6. Lewis Gallagher +3.11s;
7. Eddie O'Donnell jnr +4.03s;
8. John Cope +4.04s;
9. Tristan Pye +4.23s
10. Billy Bird +5.27s.
AFTER SS11:
Car 1, Calum Duffy, Ford Escort MkII, (Dervaig ): It's still pretty slippy out there to be honest. Not a lot of standing water, but we're going well and just taking everything steady. Touch wood the car's running well.
Car 10: Tony Bardy, Nissan Sunny GTi-R,(Richmond): Certainly see lot more in the daylight, but it's still very puddly. We're getting a lot of vibration from the rear of the car. Slid wide on one of the corners and filled it full of mud. We also broke a gearbox last night and the crew worked brilliant last night to replace it.
Car 7: John MacCrone, Ford Fiesta, (Mull): They've both gone well, but we've no idea of times. Just doing all we can do, and there's not much left in the car. We're driving as hard as we can without doing anything stupid.
Car 3: Daniel Harper, BMW Mini, (Nelson): We came flying over that last jump, landed bit heavy and the bootlid flew open.
Car 8: Jonathan Mounsey, Mitsubishi Evo VI, (Settle): Had a big off in there: spun at 120mph and hit rocks. Don't know what the damage is, I just cranked it back up and headed off again. I imagine though the bumper's wrecked, and hopefully it's not done any damage in the engine bay.
Car 9: Lewis Gallagher, Subaru Impreza, (Tobermory): Everything's going ok. Had a spin on Calgary stage last night which cost us time, but hopefully we can claw it back this afternoon.
Car 5: Eddie O'Donnell jnr, Ford Escort RS, (Tobermory): I can't believe the number of people who are crammed into that stage.
Car 4: John Cope, Subaru Impreza, (Walshaw): No problems. Everything feels good at the moment.
Car 6: Tristan Pye, Subaru Impreza, (Bishop Auckland): We've a bit of a problem with the car, but we know what it is and we should be able to fix it at service.
Car 16: Billy Bird, Vauxhall Chevette (York): Bit damp through there, but it's ok. I'm pleased with our performance, but we're not setting any records.
Car 22: Chris Haigh, Ford Escort, (Helperby): We seemed to be in the air as much as we were on the road in that stage. It's brilliant. Absolutely fantastic stage.
Car 39: John Cressey, BMW Mini S, (Long Preston): Briliant. I didn't know I liked it sloppy, but I've realised now that I obviously do. But there's just as little grip today as there was in the rain last night. But it's a blast.
Car 32: Ian Chadwick, Honda Civic,: That was a bit naughty really: I didn't realise when we did this stage last night that the seas was so close. I felt we could almost reach out and splash our hand in the sea. And we could hardly see through the windscreen which has sited up again. But it's great.
Car 19: Alan Gardiner, Ford Escort MkI, (Biggar): We've got the right trues on, and thankfully got a lot of grip. It's going well.
Car 17: Donnie MacDonald, Mitsubishi Evo IX, (Culloden): That was frightening: how close were we to the sea? But I'm loving it.
Car 11: Peter Taylor, Ford Focus WRC (Carlisle): Things going a lot better today. We made the right tyre choice, but after last night it's like starting all over again from scratch. Hopefully now we'll get faster and faster.
Car 20: Stephen Lockhart, Mitsubishi Evo, (Oban): That's one of our favourite stages in the world: but God was it scary! We're going to make some changes to the suspension at service. The car's not ideal, but it's doing a job today.
Jim McGill