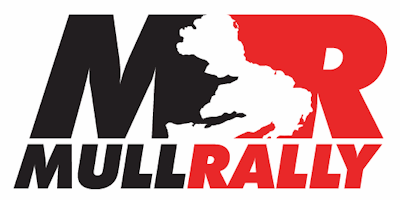 TUNNOCK'S MULL RALLY — LEG 1 REPORT
The Tunnock's Mull Rally got underway in some of the wettest, soggiest, slippery conditions in its 43-year history. How bad were conditions? Well when Dervaig's Calum Duffy opted to start the rally on four wet tyres for the first time ever, you realise conditions must have been pretty treacherous.
But even before the rally started, there were disappointed faces in the field.
Car 70, the Vauxhall Nova of John Paterson (Salen) and Lee Paterson Proud (Dervaig) suffered a broken camshaft on the way to scrutineering and failed to start.
Then Car 42, the Ford FiestaST of Luke Pinder (Shipley) and Martin Taylor, burst its power steering on way to the start. At one stage it looked as though they might be able to carry out repairs and take their place on the start, but they couldn't get the parts.
Duffy though, co-driven by Iain Duffy, threw down the gauntlet right from the start, opening up a 12-second lead on the BMW Mini of Daniel Harper (Nelson) and the Ford Fiesta ST of Iain MacKenzie (Dervaig).
"Very slippery out there: probably some of the worst conditions I've rallied in," Duffy said at first service. "Glad we softened up the suspension before we started. Our front tyres had a bit of grip, but the rears we just couldn't get enough heat into them. We obviously need to soften the rear suspension, so we'll be faster next stage.
"It's very easy to go off tonight: stages are very slippery. We'll get through the next few shortish stages, then make another big push over the closing two long stages tonight."
But while all went according to plan for pre-event favourite and six-time winner Duffy, it was a nightmare opening 100-metres for rival James MacGillivary.
The Mull driver, seeded No2, ground to a halt in his MkII at Post 1 on the opening stage with fuel and electrical problems: and with it evaporated any chance of winning the rally.
MacGillivary eventually managed to identify the problem and restart, but by that time he'd dropped just under six minutes. Ironically, the car then proceeded to run faultlessly for the rest of the night. Typical Mull!
Duffy continued to set the pace through the next stage, the 14-and-a-half miler at Hill Road, though by now Tony Bardy had found his feet in his Nissan Sunny GTi-R. The Richmond driver was just 2.0secs off the pace and eased himself into second overall.
Bardy then took 8secs out of Duffy on the two circuits of Bunessan, and the gap at the top was down to 12s. It had closed to 7s by the time they exited the to blasts round the 2.62-miles at Ardtun.
At this stage the two drivers were so well matched that they set identical times of 4mins 13secs on SS6, the 4.63-miles at Loch Scridian. Duffy though was about to light the blue touchpaper.
Fastest again through the eight-miler at Gribun Rocks, where Lewis Gallagher was second-fastest in his Subaru and Bardy dropped 10s, it was the night's final test at Calgary Bay where Duffy stamped his authority.
The Ford driver finished 38s ahead of the field, with Mull's WRC Academy contender John MacCrone finishing second in his Ford Fiesta. Significantly, Bardy dropped 1min 34secs, though he was perfectly content with his night's work: "We're taking no risks and just not overdriving the car," he said.
That left the Duffy leading Bardy by 1:51s overnight. All the more impressive given he'd run through Gribun on dipped lights. The headlights hadn't been charging properly due to the alternator hanging off because a bracket had broken. How did the crew fix the problem?
"The Boys fixed it with a tree-felling wedge to tension the alternator pulley, tied in with a bit of fence wire and held in place with tie-wraps," Duffy explained.
Tunnock's Mull Rally — End of Leg 1 of 3 (Overall Top 10 after SS9 of 17):
1. Calum Duffy 59.37;
2. Tony Bardy +1min 51secs;
3. John MacCrone +2.01s;
4. Daniel Harper +2.10s;
5. Jonathan Mounsey +2.34s;
6. Lewis Gallagher +3.01s;
7. Eddie O'Donnell jnr +3.49s;
8. John Cope +3.57s;
9. Tristan Pye +4.10s
10. Billy Bird +4.55s.
MacCrone starts today just 10s behind Bardy, and 9s ahead of fourth-placed Harper. Jonathan Mounsey (Settle) was fifth in his Mitsubishi Evo XI, 24s behind Harper, with Lewis Gallagher's Subaru sixth. The Tobermory driver starts today just 27s adrift of Mounsey.
Top 10 was rounded out by seventh-placed Eddie O'Donnell's Ford Escort RS, 8s ahead of the Subarus of John Cope (Walshaw) and Tristan Pye (Bishop Auckland) Billy Bird's Vauxhall Chevette holds 10th.
In the Classes, MacCrone holds healthy lead of almost 3mins in Class B ahead of the Honda Civic of Ian Chadwick. Class C though is shaping up to be a tight battle, with the Opel Manta of Graham Wilcock 15s ahead of the Peugeot of Huddersfield's Matt Tarbutt. He in turn holds a 37s advantage over the Ford Escort MkII of Ellon's Doug Weir. Kircudbright's Stephen Thompson leads Class A behind the wheel of his Vauxhall Nova.
In the Historics, Northallerton's Andrew Smith leads H5 in his Ford Escort MkII, with John Marshall (Dunblane) ahead in H4 piloting his Escort. The lead in H3 is held by Jim McDowall's Hillman Avenger.
ON THE ROCKS
The Peugeot 205GTi (Car 69) of Nantwich duo, Andrew Woodward and Tom Bowen, ended up stranded on rocks after it went off on SS8 at Gribun. The medics and midpoint rescue crew attended the incident and both competitors were taken out of the stage uninjured.
Subsequently Car 68 — the Citroen C2 R2 of Yorkshire crew Richard Sykes and Simon Taylor — was reported 'missing'. As a result of the rescue crew from the start of the stage being sent in to 'find them', a decision was taken to run the remaining 25 cars through 'uncompetitively'.
"We had huge numbers of spectators standing waiting to see the action at Smithy Corner and Dervaig," Clerk of the Course Iain Campbell explained, "and as it was looking like the gap would be up to around 35 mints, we didn't want to leave them standing in the pouring rain with no action to watch."
'STAR' ATTRACTION
There's at least one 'celebrity' on Mull this weekend. Roy Pilkington was marshalling on Bunessan last night, and will be on the Long One this evening. He has though been getting chased by autograph hunters. Why? Because he's one of the guys filmed in Eddie Stobart Truck & Trailers. Aye, the stars are all here!
QUOTES:
SERVICE 1:
Car 118: Zak Hancock, Mull, but living in Cockermouth (Austin Mini Cooper): We're having fantastic time and we're looking forward to Ardtun. I don't need pacenotes — my other half lives in that side of the island — so I'll let my co-driver Chris (Atkinson) watch. The Mini we're using has been used by three generations of the family: Grandfather, Mother and now son.
Car 41: Alec Brown, Tobermory (Citreon Saxo) — "Not a good start. We spun at Achnadrish and dropped 20secs then, a mile into SS2 the alternator gave up and as a result we had to do the while stage with no spotlights … and no wipers. Not good really. Hopefully though, with the help of this new alternator, we can claw back a bit more time."
START OF SS7:
Car 14: Doug Weir, Ellon (Ford Escort MkII): We went off at a 90-right on SS4 and we got stuck in a ditch, which cost us a fair amount of time. We also lost the bootlid and cracked some of the rear lights. It's amazing how many people are out there at this time of night watching the rally.
Car 19: Alan Gardiner, Biggar (Ford Escort MkI): Running intermitten Dunlops now, instead of the Kumho wets which gave us no grip at the start. Now we have much better grip and the car is handling much better.
Car 25 Dave Miller, Stoke-on-Trent (Subaru Impreza): Really sloppy: done it a few times but we've made a few modifications and it's made the car too tricky.
Car 23: Graham Willcock, Easingwold (Opel Manta): Going not so bad, now that we've got the right tyres on. We cut them a bit to allow us to get more heat into them.
Car 24: John Rintoul, Leven (Mitsubishi Evo VII): It's been terrible. We lost the lights on a couple of stages: the crews made adjustments to the lights and loosened the lights too much … and the lights toppled over. Then we lost the clutch as well: brilliant!
END OF SS8:
Car 3: Daniel Harper, Nelson (BMW Mini): Not so good: the windscreen misted up and we drove quite a bit of the stage with no visibility and dropped a bit of time.
Car 4: John Cope, Walshaw (Subaru Impreza): Feel's like there's something wrong with the car again: feels like it's wandering across the road. We've had driveshaft problems earlier.
Car 6: Tristan Pye, Bishop Auckland (Subaru Impreza): Better than the first couple of stages: getting used to the extra power in the car.
Car 5: Eddie O'Donnell jnr, Tobermory (Ford Escort RS): Nearly had a major accident in there: really big accident.
Car 7: John MacCrone, Mull (Ford Fiesta): It's been ok: we're not taking any risks. We're just keeping it steady and cool.
Car 11: Peter Taylor, Carlisle (Ford Focus WRC): Good, but we had no brakes at one stage because I'd made a schoolboy error and had by foot resting on the pedal along a straight: then had to back off and let the brakes come back to me.
Jim McGill