Skoda monsters in build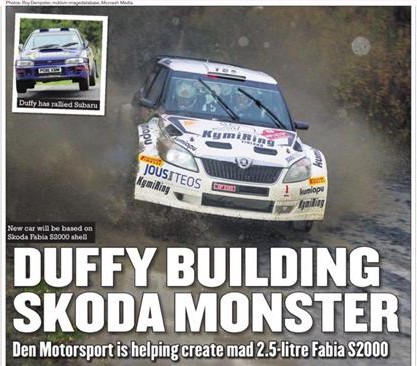 Motorsport News printed that Calum Duffy has DEN Motorsport building a special Skoda Fabia S2500 Millington for him for Mull. Now that sounds like an exciting prospect to have screaming up Glen Aros.
What we didn't appreciate was that this isn't the only Skoda monster being built for Mull. John Marshall, of Beatson's Building Supplies fame, also has a Skoda Fabia S2500 Millington under construction with DEN.
The chassis of the Skoda is well known, with many international victories behind it. The power from these two screamers will be quite something but the technical challenge in getting it all to work must be causing some scratching of heads. Not only do you need to fit a larger engine, that has to speak without an Irish accent to the Czech wiring and the steering columns have to swap from left to right as well.
But having said that, won't they be fantastic to see and HEAR in October?