DUFFY THROWS DOWN THE GAUNTLET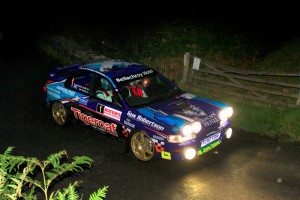 Dervaig's Calum Duffy ended the opening Leg of the 46th running of the Beatson's Mull Rally by sending out a dominant message in the evening's final stage, the 19.92-miler at Calgary Bay/Glen Aros.
The eight-time winner — who won the opening stage by 6s from Daniel Harper — finished 14s quicker than the Mini driver from Barley to establish a healthy overall lead of 51s.
Fastest in four of the evening's five stages behind the wheel of his new Subaru Impreza, Duffy was imperious as he conquered the tricky, changeable conditions as rain swept across the Inner Hebridean island.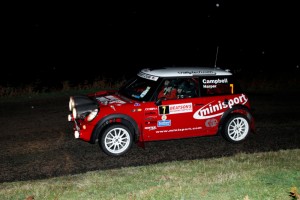 Behind the leading duo, Dervaig's John MacCrone — driving a Subaru Impreza for the first time — continued to increase his pace. The 2013 winner, who dropped 26s on the opening stage when the extra headlight pod failed to work, finished the first test — the 6.77-miler at Mishnish Lochs 1 —in 14th, having dropped 26s to Duffy.
But the young Scot grew in confidence as the evening progressed, eventually setting fastest time in the day's third stage, the 4.63-mile test at Loch Kinloch.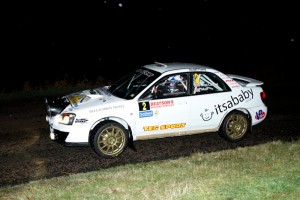 It was at testing evening for the two drivers who finished on the podium alongside Duffy last year. Tristan Pye (Bishop Auckland), second 12 months ago, struggled with power steering issues all evening in his Impreza, eventually finishing ninth, 4:04s off the lead.
Cope meanwhile could only manage one place better. The Bury driver struggled to establish a settled rhythm and starts his today's second Leg in his Impreza in eighth, 2s ahead of Pye.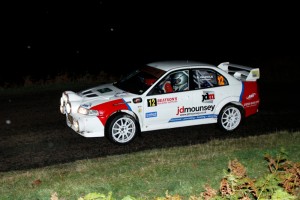 Two seconds is also the gap between the Mitsubishi Evo VI of Settle's Jonathan Mounsey in fourth, and fifth-placed Paul MacKinnon. The former winner, driving Duffy's ex-Ford Escort MkII, is 68s ahead of fellow Tobermory resident Lewis Gallager's Impreza.
The most notable retirees on the opening leg were Ireland's Derek McGeehan whose Mini WRC was forced out with injector problems, and five-times British champ Jimmy McRae. The 71-year-old veteran was forced to retire his Vauxhall Firenza when its engine seized on SS2.
The action restarts later today with the first of the day's 13 stages: the 2.62-miler at Ardtun, which starts at 12.08pm. The third and final leg gets underway at 9.53pm, before the finish ceremony in Tobermory at 1.20am on Sunday morning.
Overall standings after SS5 of 18:
1. Calum Duffy 50mins 26secs;
2. Daniel Harper +51s;
3. John MacCrone +1.26s;
4. Jonathan Mounsey +2.14s;
5. Paul MacKinnon +2.16s;
6. Lewis Gallager +3.22;
7. Richard Cook +3.27s;
8. John Cope +4.02s;
9. Tristan Pye +4.04s;
10. Tony Bardy +4.17.
DRIVER QUOTES:
Car 1: Calum Duffy: Really, really wet in the final stage. And we were on full soft slicks. An absolute downpour at the end: there was a lot of water flowing over the road and it was tough. If we'd been in the Escort, we'd have been in the hedgerow. But we'll need to continue this pace tomorrow to stay ahead of Daniel (Harper) and John (MacCrone).
Car 2: John MacCrone: The last three stages today have been a lot better, but i think we dropped a lot of time to Calum in there. It was torrential rain, and the wipers struggled to keep up. But overall, I'm happy with where we are. The main thing for me is time in the car, and we're getting quicker. But Calum's good: he's used to leading from the front and is able to cope with the pressure. Our opening night hasn't been ideal, but we're getting quicker as get used to the car.
Car 4 — John Cope: SS5 was an absolute disaster for me. I didn't carry any speed: just feel I must be getting old, and my eyes are struggling to cope with the dark. It's disappointing: it just didn't come to us tonight. If it's dry tomorrow, we'll mount a push..
Car 6 — Paul Mackinnon: It's definitely not the weather for this car: we had so much wheelspin because the rear tyres couldn't shift the water quick enough. Hopefully it'll be better tomorrow. We haven't quite got the set-up right: it's a bit too bouncy. We just need to sort it for tomorrow. But I've no excuses. I always wanted to drive a car like this: I just need to adapt my driving style.
Car 7 — Daniel Harper: This evening's been a bit like the weather: changeable. It's been difficult to find grip, and I've had no rhythm. At least I think we had the right tyres — intermediates — so I'm relatively happy with where we are.
Car 8 — Tony Bardy: We've had a few small, wee issues, but it was the right decision to switch from the NIssan to the Ford Focus. We don't have any one big problem, but we do have a big vibration: I hope it's a driveshaft, because we have a spare one. If it's the gearbox: we don't have a spare.
Car 11 — Richard Cook: We were hit with a load of torrential rain, and we were aquaplaning all over the place. It was tricky, but we're happy: it's been a cracking night!
Car 12 — Jonathan Mounsey: We've just pushed this old car as fast as she'll go: it was like a missile coming down through the Glen. Honestly, it was awesome. I wait 12 months to come to Mull and unload a year's stress … an I just did that in this stage. Tomorrow we'll have more of the same: flat-out!
Car 3 — Tristan Pye: It's not been very good today: hampered by power steering problems. Thankfully though we got it repaired for the start of SS5. I need to know where we stand before we decide what we'll do tomorrow.
Car 18 — Lewis Gallager: That last stage was perfect. Flat out tomorrow.
Car 14 — Nigel Worswick: We've survived, but we've virtually no front brakes. and we need to change the set-up of the suspension. But the front brakes are so poor
Car 20 — Alan Gardiner: We've been careful in the wet because we've been on slicks. But it's better to be cautious and make sure we're here tomorrow.
Photographs copyright of