MULL RALLY LAUNCHES NEW ESCORT CHALLENGE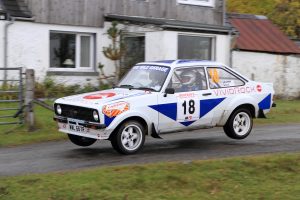 Organisers of the Beatson's Building Supplies Mull Rally will introduce the R.A.C.E. Escort Challenge at this year's event. The award is open to all rear-wheel-drive Ford Escort crews, and will feature an incentive for first time drivers.
The award, supported by leading Ford Escort proponents, Phil and Mick Squires of Rally and Competition Equipment in Stoke-On-Trent, are offering a £500 voucher to the challenge winner.
The iconic asphalt rally, which last year attracted a capacity 150 car entry, takes place on the Isle of Mull between the 13 and 15 October. The R.A.C.E. Escort Challenge has been created in recognition of the continued popularity of Ford Escorts in rallying, and it is hoped that the new award will attract top Escort crews that may not have previously considered coming to Mull.
Duncan Brown, Mull Rally Deputy Clerk of the Course says, "Ford Escorts have a strong heritage on Mull, with RWD versions winning 17 of the previous rallies. They are still popular today, over 20% of last year's field were Escorts. We wanted to create a standalone award for the growing number of Escort crews, and we felt it was important that this award is possible for a newcomer to win.
We hope that R.A.C.E. Escort Challenge will attract new Escort crews from the U.K., Ireland and further afield. Perhaps some Welsh and English tarmac expects might consider this is the year to test themselves on Mull's roads. The event has recently attracted a number of high-profile Escort drivers, including former British Champion David Bogie, who was as high as fourth in his first time competing on the event last year."
The challenge is open to all crews who enter the rally in a rear-wheel-drive Mk1 or Mk2 Escort, or RWD Mk3-4-5-6 conversion – as defined by the Make/Model on the entry form and MSA log book. All forms of Escort shall be allowed – including historic models, and "hybrids" e.g. with Vauxhall or Millington engines, sequential boxes etc.
Crews will be scored on their overall finishing position, plus a handicap based the number of previous Mull Rally starts since 2000 as a driver. The crew with the lowest score wins. As with other class awards, the top three overall finishers are not eligible. Hence, the organisers think this category will be hotly contested.