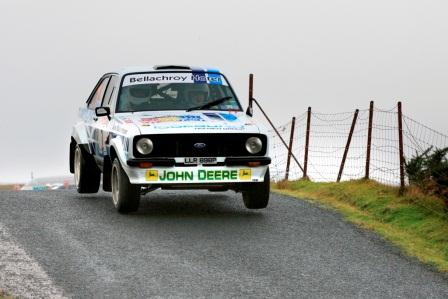 Calum Duffy wins Tunnock's Mull Rally, MacCrone second.
Dervaig duo Calum Duffy and John MacCrone finished 1-2 in the 43rd running of the Tunnock's Mull Rally. The Mull pair finished ahead of the Subaru of England's John Cope.
Duffy, piloting his Ford Escort MkII and co-driven by his brother Iain, clinched their seventh victory — and third in four years — in impressive style by setting the fastest time over the closing 22.5-mile stage, the Long One.
"It's been very, very difficult," Duffy — who set fastest times in seven of the 17 stages, and who eventually finished 2mins 07secs ahead of MacCrone — said.
"John's the real hero here this weekend. To achieve what he's done in a two-wheel drive Ford Fiesta, is fantastic: what a drive. People keep calling me the Mull Master, but he's the future of the event. He's fantastic."
Duffy though emphasised the fact he won't be retiring to make it any easier for his nominated successor: "To be the best, you've got to beat the best…"
MacCrone meanwhile, who took 24s out of Duffy on the opening stage of the closing Leg 3, was obviously delighted with his best-ever finish … in fact, his first finish since he brought his Peugeot 205 home in 2008.
"I'm delighted: to finish second is class: and to do it in the middle of Dervaig is just a dream," the 22-year-old said. "I can't believe it, to be honest. The party tonight's going to be big.
"What Calum has achieved over the last few years is amazing. To me, he's the best. He's the Master — we're the Apprentices."
And MacCrone was praised by his co-driver, Glasgow's Stuart Loudon, making his first appearance on Mull.
"John's been fantastic over the past two days," Loudon said. "It's been my first time here as co-driver, and it's blown my mind. We had an advantage in that we came here straight from the WRC Academy event in France last weekend when we finished third.
"I've learned so much over the past two days. Co-driving at night has been amazing, but the fact John knows these roads like the back of his hand was the key to us being so quick."
Walshaw's John Cope took third in his Subaru Impreza, finishing 3mins 20secs behind MacCrone.
"We've had a really good evening, and got a push on," Cope said. "We had so many problems last night, so to turn it round and fight through from eighth to third is a really good feeling."
Cope took full advantage of the misfortune suffered by long-time second-placed Tony Bandry (Richmond) who rolled his Nissan Sunny GTi-R on the penultimate stage. It was cruel luck for Bandry who has been consistently quick, setting fastest times on eight of the 16 stages he started.
There was disappointment too for Tobermory's Lewis Gallagher. The Subaru Impreza driver started the final stage in fourth, but slipped back to eighth when he dropped 5mins 12secs on the final test.
That allowed Tristan Pye (Bishop Auckland) to move up to fourth in his Subaru, more than two minutes ahead of Eddie O'Donnell jnr, whose Ford suffered a puncture on SS14.
Sixth went to Jonathan Monsey's Mitsubishi, 17s ahead of the BMW Mini of John Cressey (Long Preston). The top 10 was rounded off by Alistair Inglis (Montrose) in his Mitsubishi Evo 5, who edged ahead of 2002 winner Daniel Harper (Nelson) by just 4secs.
Stage final stage was halted after Car 57 — the Peugeot 106 of Euan Mackay (Brora) and Michelle Falconer (Inverness) — caught fire. Both crew members thankfully escaped uninjured after vacating the car. The Peugeot suffered less well and was badly damaged. Organisers had to send a fire tender into the stage to deal with the blaze as the car was in close proximity to property.
In the classes, MacCrone took Class B by a country mile, while the Ford of Ellon's Doug Weir sealed Class C by 61s from Graham Willcock's Opel Manta. And Stephen Tompson (Kirkcudbright) won Class A in his Vauxhall Nova, ahead of the Lotus Elise of Howard Moore (Banbury).
In the Historics, H5 was won by Andrew Smith's Ford Escort MkII, and H3 by Jim and Charlotte McDowall's Hillman Avenger.
Tunnock's Mull Rally — Result (Provisional):
1. Calum Duffy 2hr 25mins 34secs;
2. John MacCrone +2.07s;
3. John Cope +5.27s;
4. Tristan Pye +6.16s;
5. Eddie O'Donnell jnr +8.26s;
6. Jonathan Mounsey +9.36s;
7. John Cressey +9.53s;
8. Lewis Gallagher +10.17s;
9. Daniel Harper +11.43;
10. Alistair Inglis +11.49.
AFTER SS14:
Car 1, Calum Duffy, Ford Escort MkII, (Dervaig): Took it quite steady. Went for slicks and we had a few moments in there which weren't necessary. Very slippy, but still going 90-95%
Car 10: Tony Bardy, Nissan Sunny GTi-R, (Richmond): Very slippy in there. Time to kick myself up the arse.
Car 7: John MacCrone, Ford Fiesta, (Mull): Went on Inters, but they went halfway through, which made it hard through the glen. I think we'll change to Slicks. Think we took some good time out of Tony.
Car 3: Daniel Harper, BMW Mini, (Nelson): Not bad. Slippy, but road's drying.
Car 8: Jonathan Mounsey, Mitsubishi Evo VI, (Settle): Just caught Eddie O'Donnell at the end of the stage. He was crawling.
Car 9: Lewis Gallagher, Subaru Impreza, (Tobermory): Quite fast, but we had a slow start. Running Slicks with a couple of cuts.
Car 5: Eddie O'Donnell jnr, Ford Escort RS, (Tobermory): Puncture on the back right and we were down to the rim for the last half-mile. Definitely wanted to get the full value of the tyres. Got overtaken by Jon (Maunsey), so we've dropped at least a minute.
Car 4: John Cope, Subaru Impreza, (Walshaw): On Inters. Pushing quite a bit, hence the glowing brakes.
Car 6: Tristan Pye, Subaru Impreza, (Bishop Auckland): Very slippery.
Car 39: John Cressey, BMW Mini S, (Long Preston): Struggling to see in the dark. Probably getting a bit old.
Car 32: Ian Chadwick, Honda Civic: Not very happy. Lights are back to flickering, which makes it difficult to see.
Car 19: Alan Gardiner, Ford Escort MkI, (Biggar): Pretty good. Lots of grip. Really fast in there. Just pleased now to get to the end.
Car 17: Donnie MacDonald, Mitsubishi Evo IX, (Culloden): Not good. We had a terrible start. Cold tyres and cold brakes. Really let myself down. Really disappointed.
Car 20: Stephen Lockhart, Mitsubishi Evo, (Oban): Broke a driveshaft coming up to the Dervaig Hairpin. Only ourselves to blame. That's it over for us.
Car 21: Alistair Inglis, Mitsubishi Evo V, (Montrose): Got to let my brakes cool. Cut Slicks went off: cooked them.
Car 26: Alex Taylor, Subaru Forester: We were close behind the No37 Escort that hit the bank. Hampered us a bit.
Car 15: Steve Cressey, Ford Escort (Chesterfield): Absolutely awesome. Perfect tyre choice: thoroughly enjoyable.
Car 14: Doug Weir, Ford Escort MkII, (Ellon): That was a lot better: dryer and faster.
Car 37: Neil Morgan, Ford Escort, (Congleton): Rubbish. Hit a rock, and buggered the front. Punctured front left and bent the rim.
Car 86: Andrew Smith, Ford Escort MkII, (Northallerton): It's hot and sweaty in here. I've been trying a bit too hard: not smooth. Looking in the mirror too much because I'm conscious of all these 4x4s behind me.
Car 88: Matthew Keeson, Vauxhall Nova (Dunblane): Over-driving in a bit. Just need to relax.
Car 120: Stewart Wiltshire, Vauxhall Corsa, (Tobermory): Car's handling like a shopping trolley: nightmare. Hit something and the handling's shot.
Jim McGill