Beatson's Building Supplies Mull Rally steps up a gear in its Carbon Offset commitment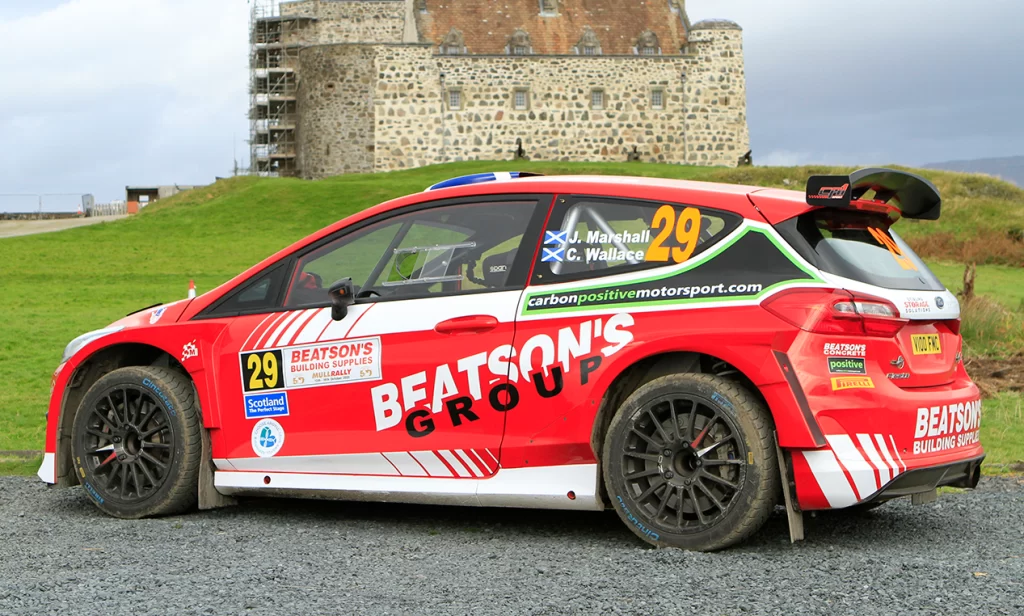 The Beatson's Building Supplies Mull Rally will enhance its environmental commitment by carbon offsetting all competitors' emissions at the 13-15 October event
Partnering once again with Carbon Positive Motorsport, the popular rally will almost double its offset commitment compared to 2022, with around 70,000Kg CO2e set to be offset
The commitment is the second highest level of offsetting by a UK rally
In 2021, the Beatson's Building Supplies Mull Rally broke new ground by becoming the first rally in the UK to take meaningful measures to mitigate its environmental impact. And in the heart of Scotland's Climate Week, event organisers will kick-start a significant uplift in its long-term environmental roadmap, by ensuring that all competitors in this year's event [13-15 October] will offset their carbon emissions, thanks to a continued partnership with Carbon Positive Motorsport.Working closely once again with the industry-leading firm, the Mull Rally will offset more than 70,000Kg CO2e with the use of a world-class Woodland Carbon Code-certified carbon offsetting project based in the Highlands of Scotland, ensuring it provides additional environmental benefits, such as improved biodiversity and the rewilding of native tree species.
Since its inaugural commitment to recognise its environmental impact, the Mull Rally has continued to uplift its obligation to sustainability and in 2022, the rally was able to commit to future offsetting of 46,000kg CO2e thanks to a large number of competitors supporting the initiative.
In 2023, the event chose to mandate offsetting for each competitor which will ensure the event is set to offset more CO2e than most other stage rally events in the world, reinforcing its pledge to be one of the leading events for commitment to sustainability and longevity. This is coupled with several environmental champions who will help spread the positive message for change within the sport's networks.
New event team members will be dedicated to environmental issues and the ambition to reach Motorsport UK and FIA Environmental Accreditation. This includes the use of Motorsport UK's Carbon Calculator to better understand total event carbon emissions which will lead to ongoing evaluations and reductions in event processes, such as printing and island movements.
Fans and volunteers are also able to contribute towards their carbon footprint, with Carbon Positive Motorsport offering a 20% discount on the carbon offsetting services when travelling to the event.
Clerk of the Course of the Beatson's Building Supplies Mull Rally, Richard Crozier said:
"Ensuring that our event continues to deliver an ever more positive environmental legacy for the island year on year, is of massive importance to us."
"We are proud to have been the first rally in the UK to have recognised the importance of this area and after starting our environmental journey back in 2021, we continue building further upon that with each running. It's been great to partner with Carbon Positive Motorsport since last year, as fellow motorsport enthusiasts passionate about this area."
"The addition this year of our own dedicated Environmental Champions in Anna Kebke and Thomas Johnstone, has been a real boost to the event. We look forward to what we can achieve together in 2023, and ensuring that future generations are able to respect, protect and enjoy the Isle of Mull for years to come."
Paul Glass, founder of Carbon Positive Motorsport added, "It is a great privilege to support the Beatson's Building Supplies Mull Rally. We all have a responsibility to contribute in a meaningful way to mitigate our impact on climate change and the environment, and the Mull Rally once again sets out to demonstrate such a local contribution to an increasing global problem."
"I want to thank the organisers and all the competitors this year and last year for their support of our initiative. Our ambition is to help make motorsport and the environment sustainable for future generations to enjoy."
For more information on Carbon Positive Motorsport or to pledge, visit: https://www.carbonpositivemotorsport.com/post/mull-rally-2023
– ENDS