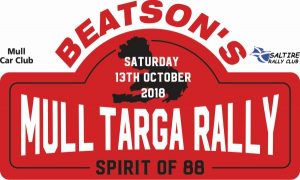 Mull Targa Rally
Signing-on will be available in MacGochans Bar/Restaurant in the upstairs function room on Friday 12th between 18:00 and 20:00 and Saturday 13th between 07:30 and 08:45. We would really appreciate if all marshals could be signed-on by Saturday 08:45 latest. It's possible some of you may decide to go straight to your allocated post on the Saturday morning, if that's what's been communicated to you by the allocated Test Commander. If that's the case then the Test Commander will have a signing-on sheet, please ensure you sign-on.
For those who don't have details of their allocated post this information will be provided at signing-on.
The Test Commanders for the Tests will be provided with a full information packs, and will include the following. Regularity marshals will each be provided with their own packs.
Test and Regularity Time Control Locations
Test Diagrams (if applicable)
Check Sheets
Safety Manual
Entry List
Test and Regularity Marshal Instructions
MULL RALLY TIME TRIAL
Signing on for the Time Trial is at 08:00 at the start of the Time Trial, where you will be allocated a position or post number.
I will be at scrutineering 18:00 to 20:00 Saturday at the Distillery Tobermory, if you would like to sign on and get your location the night before. If you are doing both events then signing on on Friday night at MacGochans will be for both.

A packed lunch will be provided both days to Marshals. These are provided by PARK LODGE HOTEL Tobermory.
In the meantime I look forward to seeing you all at the weekend. (Fingers crossed we get reasonable weather)
Adrian Fitness
Chief Marshal Mull Car Club
07917 095136
__________________________
Tom Wilson
Deputy Chief Marshal
Saltire Rally Club
07725 652994