2023 BEATSON'S BUILDING SUPPLIES MULL RALLY ROUTE ANNOUNCED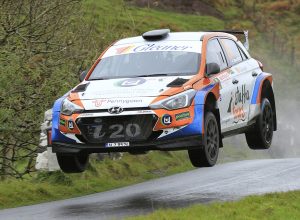 The countdown has begun for the 2023 Beatson's Building Supplies Mull Rally! After the successful 50th Mull Rally in October 2022, this iconic event is back, with some new tweaks and upgrades.
Mull Rally offers dramatic closed road rally competition around the unique landscape of the Isle of Mull, in Scotland's Inner Hebrides. 150 cars will compete over 133 competitive miles, mostly in the dark, in a physical and mechanical test of speed, skill and stamina.
Beatson's Building Supplies return as sponsors of the event. Watch out for Bobby Beatson in rally week! Their support of this event and rallying in general (they also sponsor the Jim Clark Rally) is very much appreciated. Additional support comes from Argyll and Bute Council and Event Scotland.
2022 featured stages through Tobermory town and a monster 30 mile night stage. This year we have a number of format changes while still using the same demanding roads on the Isle. The event starts earlier – 3pm on Friday – with two daylight stages before service then a short night leg. This will help new competitors adjust to the event, provide representative stage times for reseeding, and hopefully see most competitors make it to Saturday, for the final two legs.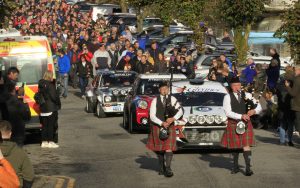 The Saturday stages feature double runs on the famous Mishnish, Calgary and Loch Tuath stages, in one direction in the afternoon then the opposite direction at night. The Saturday night leg also includes a trip to the iconic Scridain and Gribun tests. That Saturday night leg is a fitting grand finale, with 63 competitive miles, the longest final leg in 15 years and taking the challenge right to the end of the event. We have moved the timings so the finish in Tobermory will be earlier – the winner should enter Ledaig soon after midnight.
In addition to attracting 150 crews to the event, an army of volunteers also descend on the Isle – we expect over 300 individuals who perform essential safety and medical roles, plus ensure the event runs to plan. The earlier running of the night time legs is primarily for their welfare. If you want to be part of our volunteer team, contact us at marshals@mullrally.org
Regulations for the event will be available from 12th July with entries opening on 4th August. The event is a round of Burnside Piling Scottish Tarmac Rally Championship, ANWCC Stage Rally Championships and SD34 Stage Rally Championship
We look forward to welcoming old and new friends alike to Beatson's Building Supplies Mull Rally 2023 – a unique blend of sport, socialising, scenery, challenge and endeavour.