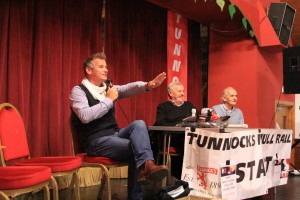 When was the last time that John Fife couldn't host the pre-rally forum on the Thursday night? We can't remember either. Unfortunately John was away at a new van launch with Mercedes Benz in Spain and couldn't get to the island until the Friday lunchtime. It wasn't even glorious weather – it rained.
The only person who could replace such a host could only be WRC Live's, Colin Clark.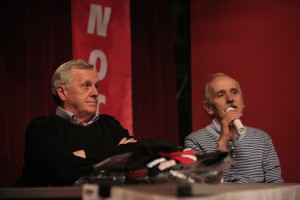 Colin took to the stage, without a hint of pink in sight, with guests Jim McRae, Ian Grindrod, Nick & Kelly Mathew, Stuart Loudon and Iain Campbell. But then the surprise guests were also World Rally Championship drivers; Elfyn Evans, Mikko Hirvonen and Haden Paddon.
You can listen to the full Forum by downloading the recording here. Where else can you find out about why Ian Grindrod calls Mull 'The Best Rally in the World' and also get to hear Elfyn Evans sing the theme tune to 'Balamory'?
Host – WRC Live commentator, Colin Clark
Jim McRae – 5 times British Rally Champion
Ian Grindrod – 3 times British Rally Champion sitting beside Jim. Man who christened Mull The best Rally in the World
Elfyn Evans – M-Sport World Rally Team driver
Mikko Hiroven – M-Sport World Rally Team driver
Hadon Paddon – Hyundai Shell N World Rally Team driver
Nick & Kelly Mathew – 2BritsRacing, Canadian entry
Iain Campbell – Clerk of the Course
Stuart Loudon – Tunnock's World Rally Team & co-driver to John MacCrone