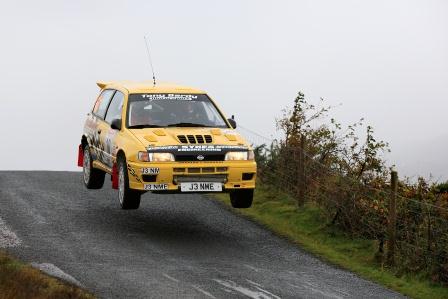 TUNNOCK'S MULL RALLY — LEG 2 REPORT & QUOTES:
Tunnock's Mull Rally — Overall Top 10 after SS13 of 17:
1. Calum Duffy 1hr 38mins 19secs;
2. Tony Bardy +1min 44secs;
3. John MacCrone +2.07s;
4. John Cope +4.19s;
5. Lewis Gallagher +4.21s;
6. Tristan Pye +4.44s;
7. Eddie O'Donnell jnr +5.07s;
8. Jonathan Mounsey +6.02s;
9. Billy Bird +7.04s;
10. John Cressey +7.18s.
Overnight leader Calum Duffy maintained his stranglehold on the 43rd running of the Tunnock's Mull Rally, but the Dervaig driver saw his lead reduced to 'just' 1min 44secs after he was "too cautious" with his tyre choice for SS13 at Calgary Bay.
"I should have gone with Slicks, but I opted for Inters," he explained after seeing Tony Bardy take 10secs out of him over the 21.89-miles.
But while Duffy was left ruing the tyres on his Ford Escort MkII, Bardy was delighted with his drive through the four stages.
"We're sort of in unchartered territory," he laughed. "It's a bit of a new experience being here for the Saturday night runs, and being so far up the leaderboard."
But the Richmond driver accepts Duffy is in pole position to win tonight.
"Calum's been here before, and with the gap he has he should be able to control it to the end," he continued. "But that can bring its own problems: backing off has a habit of coming back to bite you hard. And as we know, it only takes a puncture in the wrong place."
The Englishman's pace through the final stage of the afternoon Leg in his 4WD Nissan Sunny GTi-R, also saw him pull away from the John MacCrone.
The 22-year-old Mull ace, piloting his 1600cc 2WD Ford Fiesta, bagged two fastest stage times today, first through Gribun 2, then Mishnish 2. That though wasn't enough to stop Bardy open the gap to third-placed MacCrone to 23secs.
"We're doing all we can do, and there's not much left in the car," the islander explained. "We're driving as hard as we can without doing anything stupid. We're pushing very hard, and I have to hope the rain comes back this evening."
The afternoon loop proved painful for Daniel Harper. Fourth overnight in his BMW Mini, he popped the tailgate on his car after a heavy landing, then lost time with a puncture. Worse though was to follow when the Mini suffered a driveshaft problem on SS13. He now lies 18th.
And there was a close shave for Settle's Jonathan Mounsey. At 120mph, he pitched his Mitsubishi EvoXI into a ditch after clattering a rock.
"Yeh, it was a pretty big one," he admitted. "We came over a crest, the car went light and we ended up looking at the sky with the back of the car in a ditch. Somehow though, the car just pulled itself out and we were abel to continue."
In the classes, MacCrone continues to lead Class B by a country mile, while the Ford of Ellon's Doug Weir leads Class C by just 17s from Graham Willcock's Opel Manta. And Stephen Tompson (Kirkcudbright) leads Class A in his Vauxhall Nova, ahead of the Lotus Elise of Howard Moore (Banbury).
In the Historics, H5 is led by Andrew Smith's Ford Escort MkII; H3 by Jim and Charlotte McDowall's Hillman Avenger: and H4 by Martin Healer's Ford Escort RS1600
QUOTES:
AFTER SS13:
Car 1, Calum Duffy, Ford Escort MkII, (Dervaig ): We made the wrong tyre choice. We struggled for grip at the rear and then they went off. I know we'll definitely have dropped time. Not ideal.
Car 10: Tony Bardy, Nissan Sunny GTi-R, (Richmond): We had worn inters on and were on the pace, but even with the issues Calum had, he's got enough of an advantage to stay ahead.
Car 7: John MacCrone, Ford Fiesta, (Mull): That was good, but I'm not sure how good? Very slippy, especially under the trees where the moisture has stayed: plus there's leaves everywhere. There were some strange lines on the road coming through there. We were pushing very hard. I have to hope the rain comes back this evening.
Car 9: Lewis Gallagher, Subaru Impreza, (Tobermory): That was ok. We lost power at the start, but after the first mile it came back. I passed Jonathan Mounsey.
Car 8: Jonathan Mounsey, Mitsubishi Evo VI, (Settle): W had no boost for most of that stage. I think we've dropped a turbo pipe. Essentially we had 100bhp instead of 300bhp. It happened right at the start of the stage.
Car 4: John Cope, Subaru Impreza, (Walshaw): Worked hard in there, but it was good fun. Just set about it and went for it. Passed Daniel Harper in there: think he has a driveshaft problem.
Car 6: Tristan Pye, Subaru Impreza, (Bishop Auckland): We had a few anti-lag problems: just kept flicking on and off. But we'll sort it out for the final leg tonight.
Car 16: Billy Bird, Vauxhall Chevette (York): Slippy, but we're still here and just ticking the stages off.
Car 3: Daniel Harper, BMW Mini, (Nelson): We broke the driveshaft just three miles into the 22-miler. Dropped a shed-load of time, probably around five minutes.
Car 5: Eddie O'Donnell jnr, Ford Escort RS, (Tobermory): Great stage. Really pushed it to try and make up the time we dropped on the earlier stage when we had a puncture.
Car 19: Alan Gardiner, Ford Escort MkI, (Biggar): We put hard tyres on the back, and though they weren't ideal for SS12, they really helped on this one. We've got a problem with the brake pads glazing, but I think we'll be ok tonight.
Car 17: Donnie MacDonald, Mitsubishi Evo IX, (Culloden): Brilliant stage: I just didn't have the bottle for it. Can I go back now and do it again?
Car 21: Alistair Inglis, Mitsubishi Evo V, (Montrose): Fantastic: that was something else. Wish I could maintain that pace right through to the end of the rally.
Car 27: Richard Cook, Subaru Impreza, (Lamplugh): Just lacking a bit of confidence there. Car 21 passed us. The downhill sections I just backed-off. But great stages.
Car 26: Alex Taylor, Subaru Forester: We've a front left puncture. It's completely disintegrated and it came off the rim about half-a-mile from the end of the stage. It's caused a fair bit of body damage, but hopefully the suspension's ok. I always think you've got be in it to win it: we won't win it, but we're still in it!
Car 38: Matt Tarbutt, Peugeot 306 Maxi, (Huddersfield): Wheel sheered from the car. Thankfully both Matt and co-driver Joff Haigh ok.
Car 20: Stephen Lockhart, Mitsubishi Evo, (Oban): Not very good, really. Lost time with a puncture.
Car 36: Craig Rutherford, Honda Civic Type-R, (Mull): We've had no drive — well, very little — and the power steering keeps coming and going Oh, and the gears keep slipping. Very slow: we got passed by the Peugeot 106 of Euan Mackay (Brora).
Car 54: John Marshall, Ford Escort, (Dunblane). How was that? It was shite. I've got what feels like a valve cap stuck somewhere in my crash helmet, and the pain's been excruciating right through the stage. Can't wait to get it off.
Jim McGill