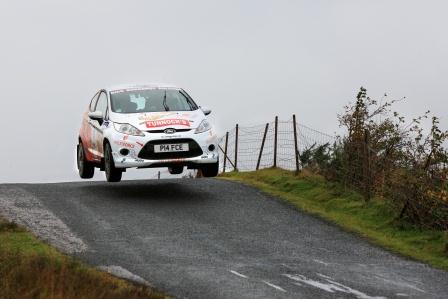 Tunnock's Mull Rally Update — SS14
The opening stage of the final loop tonight saw John MacCrone top the timesheets through the 14.79-miles at Glen Aros/Mishnish Lochs. Powering his two-wheel-drive Ford Fiesta, the 22-year-old was 24s faster than the Escort MkII of rally leader Calum Duffy.
MacCrone's pace eased him into second place, 7s ahead of the Nissan of Tony Bardy, with the Subaru of John Cope in fourth with Lewis Gallagher fifth in his Subaru.
But the stage saw a number of retirements, with Car 22, Chris Haigh offroad at Post 9. Crew ok. Car 16, Billy Bird, also stopped in stage at Post 7 with a broken driveshaft … near Dervaig graveyard.
Tunnock's Mull Rally — Overall Top 10 after SS14 of 17:
1. Calum Duffy 1hr 52mins 09secs;
2. John MacCrone +1.43ss;
3. Tony Bardy +1min 50secs;
4. John Cope +4.29s;
5. Lewis Gallagher +4.38s;
6. Tristan Pye +4.56s;
7. Jonathan Mounsey +6.52s;
8. Eddie O'Donnell jnr +7.15s;
9. John Cressey +7.18s
10. Alistair Inglis +9.29.
QUOTES:
AFTER SS14:
Car 1, Calum Duffy, Ford Escort MkII, (Dervaig): Took it quite steady. Went for slicks and we had a few moments in there which weren't necessary. Very slippy, but still going 90-95%
Car 10: Tony Bardy, Nissan Sunny GTi-R, (Richmond): Very slippy in there. Time to kick myself up the arse.
Car 7: John MacCrone, Ford Fiesta, (Mull): Went on Inters, but they went halfway through, which made it hard through the glen. I think we'll change to Slicks. Think we took some good time out of Tony.
Car 3: Daniel Harper, BMW Mini, (Nelson): Not bad. Slippy, but road's drying.
Car 8: Jonathan Mounsey, Mitsubishi Evo VI, (Settle): Just caught Eddie O'Donnell at the end of the stage. He was crawling.
Car 9: Lewis Gallagher, Subaru Impreza, (Tobermory): Quite fast, but we had a slow start. Running Slicks with a couple of cuts.
Car 5: Eddie O'Donnell jnr, Ford Escort RS, (Tobermory): Puncture on the back right and we were down to the rim for the last half-mile. Definitely wanted to get the full value of the tyres. Got overtaken by Jon (Maunsey), so we've dropped at least a minute.
Car 4: John Cope, Subaru Impreza, (Walshaw): On Inters. Pushing quite a bit, hence the glowing brakes.
Car 6: Tristan Pye, Subaru Impreza, (Bishop Auckland): Very slippery.
Car 39: John Cressey, BMW Mini S, (Long Preston): Struggling to see in the dark. Probably getting a bit old.
Car 32: Ian Chadwick, Honda Civic: Not very happy. Lights are back to flickering, which makes it difficult to see.
Car 19: Alan Gardiner, Ford Escort MkI, (Biggar): Pretty good. Lots of grip. Really fast in there. Just pleased now to get to the end.
Car 17: Donnie MacDonald, Mitsubishi Evo IX, (Culloden): Not good. We had a terrible start. Cold tyres and cold brakes. Really let myself down. Really disappointed.
Car 20: Stephen Lockhart, Mitsubishi Evo, (Oban): Broke a driveshaft coming up to the Dervaig Hairpin. Only ourselves to blame. That's it over for us.
Car 21: Alistair Inglis, Mitsubishi Evo V, (Montrose): Got to let my brakes cool. Cut Slicks went off: cooked them.
Car 26: Alex Taylor, Subaru Forester: We were close behind the No37 Escort that hit the bank. Hampered us a bit.
Car 15: Steve Cressey, Ford Escort (Chesterfield): Absolutely awesome. Perfect tyre choice: thoroughly enjoyable.
Car 14: Doug Weir, Ford Escort MkII, (Ellon): That was a lot better: dryer and faster.
Car 37: Neil Morgan, Ford Escort, (Congleton): Rubbish. Hit a rock, and buggered the front. Punctured front left and bent the rim.
Car 86: Andrew Smith, Ford Escort MkII, (Northallerton): It's hot and sweaty in here. I've been trying a bit too hard: not smooth. Looking in the mirror too much because I'm conscious of all these 4x4s behind me.
Car 88: Matthew Keeson, Vauxhall Nova (Dunblane): Over-driving in a bit. Just need to relax.
Car 120: Stewart Wiltshire, Vauxhall Corsa, (Tobermory): Car's handling like a shopping trolley: nightmare. Hit something and the handling's shot.
Jim McGill