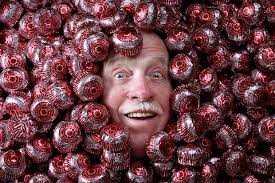 We are delighted to announce that entries are now open for the world-famous Tunnock's Teacake Eating Contest.
As you all know, Tunnock's Teacakes are the staple diet of rally fans all over the world, and the Mull rallying community has strong and long-lasting links with the Tunnock's company and family. We've teamed up with former rally winner Stuart Loudon (Chief Biscuit Engineer) and rally safety specialist Ron Cowan to present this year's challenge:
The Tunnocks Teacake Eating Contest will take place at 8pm on Friday 13th October in the Loft at MacGochan's in Tobermory.
Entries are limited to 20 teams – each team shall consist of 1 x Eater and 1 x Unwrapper, both of whom must be 18 or over.
Please email your entry to Ron Cowan at teacakecontest@ntlworld.com – stating your connection to the rally – i.e. Spectator, Marshall, Competitor, etc.