BEATSON'S MULL RALLY SHAKEDOWN DETAILS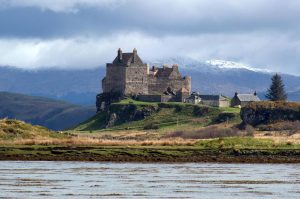 Around 25 crews are expected to take part in Friday's official shakedown ahead of the 47th running of the Beatson's Mull Rally.
Based at Duart Castle, the first cars are scheduled to enter the 1.43-mile stage — which has a chicane located 0.6-miles from the start heading west — at 9am, having completed any recce before 8.30am.
The stage will run in both directions, with maximum of six cars at a time at 30-second starts.
Importantly, all spectators and crews must be on-site no later than 8.45am, as the road will close at 9am, and will not re-open till noon.
ALL CREWS AND SPECTATORS WILL NOT BE ALLOWED TO LEAVE UNTIL THE ROAD IS RE-OPENED.
The Duart Castle Café will be open during shakedown serving hot drinks and snacks.
The crews scheduled to take part in the shakedown are:
1 Calum Duffy/Iain Duffy
3 John Maccrone/Stuart Louden
4 Daniel Harper/Chris Campbell
5 Jonathan Mounsey/Richard Wardle
6 Tristan Pye/Andrew Falconer
9 James MacGillivray/Ian Fraser
14 David Bogie/Kevin Rae
20 Shaun Sinclair/Neil Shanks
25 Fergus Barlow/Alasdair MacCrone
28 David Taylor/Jim Bowie
29 Steven Ronaldson/Gordon Chalmers
31 Ross Hunter/Josh Davison
32 Ross Marshall/Dave Robson
33 Joe McQuillan/Sean Donnelly
38 John Marshall/Scott Crawford
42 David White/Mathew White
52 Alec Brown/Robbie MacCallum
63 Darren Thompson/Larry Higton
64 Nigel Feeney/ Paula Swinscoe
67 Alan Cameron /Alasdair Ingram
68 Martin Page/Ben Anderson
72 Stuart Walker/Lewis Brown
75 Tom Hynd/Sue Hynd
111 Chris Woodward/Richard Pover
139 Kyle Livingstone/Jamie Maclean