John MacCrone: My long road back
For John MacCrone, the last 12 months have been like no other in his life. But a year on from the horrific crash which claimed the life of his friend, and co-driver Andy Mort, he returned to conquer the demons and win the Beatson's Mull Rally. John spoke to Jim McGill about the challenges he's faced, and what it meant to win his home event again.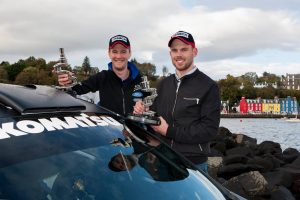 TWELVE MONTHS AGO, John MacCrone's Beatson's Mull Rally ended with his car on fire after the 90mph crash in which his co-driver, Andy Mort, tragically died. A fortnight ago, the 27-year-old from Dervaig returned home to tackle the high-speed rally on the island's high-speed tarmac roads and sealed an emotional victory.
It's difficult to even begin to comprehend the internal maelstrom of thoughts, images, memories and fears which must have tumbled around MacCrone's mind in the build-up to the start of the rally in Tobermory on the Friday night.
But as he sat next to Uddingston's Stuart Loudon — the co-driver with whom he won the Mull Rally in 2013 — in their 2016 Ford Fiesta R5, MacCrone had one goal: to win.
Sitting on the start line, in control of a high-powered rally car capable of reaching more than 100mph on narrow, single-track roads, and in autumn darkness with driving rain turning the surface even more treacherous, is not the time to allow self doubts or reflections of previous life-changing moments to rear their heads.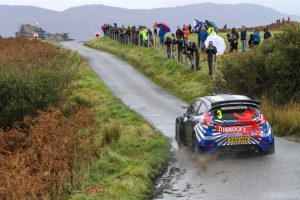 But MacCrone was 'on it' right from the start, setting fastest time through the opening 6.77-mile stage at Mishnish Lochs. It was a lead he was never to concede, eventually winning — after 18 special stages, 160 miles and a nailbiting finale — by 10s, ahead of his old rival and nine-time winner Calum Duffy.
As he rolled his Tunnocks-liveried Fiesta R5 to a halt in Tobermory after the flying finish, and confirmation reached him he'd won, the dam of pent-up emotion, stored privately for a year, burst through.
Head in his hands, still sat in the car with Loudon, MacCrone finally allowed the tears to flow. Outside, the crowd of family, friends, supporters and rival competitors, all too aware of the significant catharsis taking place in front of them, stood back and allowed the moment to unfold uninterrupted.
"It was one of those things we just had to have between ourselves," Loudon, explained afterwards..
"The good thing was, everyone knew what was going on, and what John had come through: there was a huge amount of respect from everybody who gave us the time, and didn't automatically pull the doors open.
"We have to thank everybody for that. It really was a fantastic, and very special moment."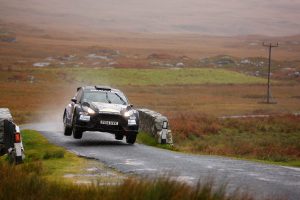 For MacCrone, the moment might well be seen as the end of one phase of his life, and the start of another. But it is a life which will, forever, carry the memory of his friend, Andy, with him.
"This was difficult. What happened last year is something which has affected my life a lot: and in little ways you don't think about sometimes," MacCrone said. "I just knew I had to be here to do it.
"At the back of my mind, all the time, is what happened last year. When you're rallying you're not thinking about stuff like that, but it's always there. This is something that's happened which will never go away, and in many ways it's surreal.
"It's still something you think, 'did that really happen? Was that real life?'
"To come back for the first time, a year after what happened, to win the rally is an absolute dream come true. It's the absolute best thing that could have happened to me."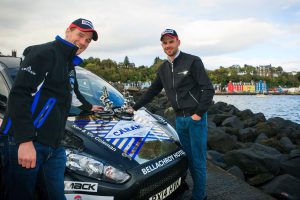 MacCrone's road back to Mull started when he committed to do this year's Scottish Rally Championship, with co-driver Rhianon Gelsomino. His performances improved throughout the season, culminating with a win in the Grampian Stages.
But he reflects that few people realised how big the challenge he faced was.
"A lot of people tipped us to go well in the Scottish Championship, but I knew it was going to be a struggle to come back … and go fast straightaway," MacCrone admitted.
"My bottle on some of the fast sections has definitely … last year happened on a fast section … and to come back and drive fast, in the fast sections was a massive challenge.
"I took a massive knock to my confidence; you wonder about your pacenotes; about the car; about your tyres; you wonder if everything's going to work ok? Then you start wondering, what if this happens?
"So we had to build that up over the year. It all came together for Mull, and that feels to me like the best place for it all to have made sense."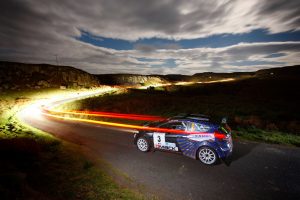 In many way's this year's Beatson's Mull Rally was the archetypal 'blank canvas' for MacCrone. His pacenotes, the Holy Grail of confidence and speed for any rally driver, were destroyed in last year's car fire.
"I had to write a whole new set of pacenotes," he explained. "I went out with my brother Alasdair, and uncle Peter before the rally to write new ones, because Stuart was really busy before the rally at San Marino; so he was away. So I wrote new notes with them."
And it's that support from family, friends and fellow Muileachs which has been pivotal to MacCrone's journey of recovery over the last 12 months.
"The support from Mull has been incredible. My family and my friends have had to put up with a lot from me: I'm probably not the most straightforward person in the world. I can be quite complicated at times … but everybody stood by me and supported me 100%.
"Even all the competitors; all the guys I was up against, they all wished me well, and it feels quite special, to have managed to do what we've done.
"I don't feel I'm alone in enjoying this success. It feels like quite a widespread thing, so I'm obviously very, very happy."
Jim McGill
All photographs copyright of LindsayPhotoSport