Mmm, MacCrone, McRae, McGeeghan, Molyneux….(ran out of M's)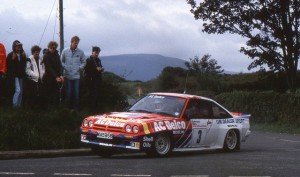 As this is being written with just over a week to go before entries close we are currently sitting with 140 entries for the 45th Tunnock's Mull Rally. Fantastic, is all that can really be said. The most interest in the event since 2009. Thank you all very much.
And what quality is in that 140 entries to date. Jim McRae has teamed up with Ian Grindrod to compete in a MK1 Escort in Class H4. It is 40 years since the 5 times British Rally Champion took up rallying and 40 years since he last competed on Mull. There is a story that Ian Grindrod was sat in a cafe one evening on the Sanremo riviera in October whilst reccing with the Rothmans World Rally Team, "huh, I'd rather be on Mull." he is said to have sighed.
Last year's winners John MacCrone/Stuart Loudon are back to defend their title but haven't given themselves a head start. They are back in a Fiesta but not the S2400 beast but a more tame R200. An R2 car with a bit more poke than the one they had in 2012.
Everyone has to take a ferry to get to Mull but Derek McGeeghan's boat is coming from a different direction. The Irishman is taking the only right-hand-drive MINI WRC to the island for a run. Telling Motorsport News, "I won't be able to win. You need to do the event at least three times before you can even think about winning it." Do you think he is sandbagging?
Then to keep the theme of 'M's going; Molyneux. The one name that will be forever linked to the Mull Rally. Brian developed the idea and created the event, sons Clive and Neil then ran many aspects of it for many years but none have competed in the rally. John Cope has asked Clive to co-drive this year and it is brilliant to see a Molyneux on the entry list. Go and enjoy it Clive.
And that is just the 'M's. We could have mentioned MacGillivray but he hasn't entered yet. Could it be either him or, co-driver Ian Fraser are waiting on a Agriculture or Fish Farm subsidy to arrive first?
What about Duffy with his new Millington+ engine? That is going to sound incredible around Calgary Bay. Peter Taylor is back to move up one step to win the rally in his Fiesta S2400. Then Hugh Hunter is coming with the Focus WRC and there are the other 134 entries (to date) that we haven't mentioned.
Stand well back, the action is going to be electric.