Beatson's Building Supplies Mull Rally reveals 2023 challengers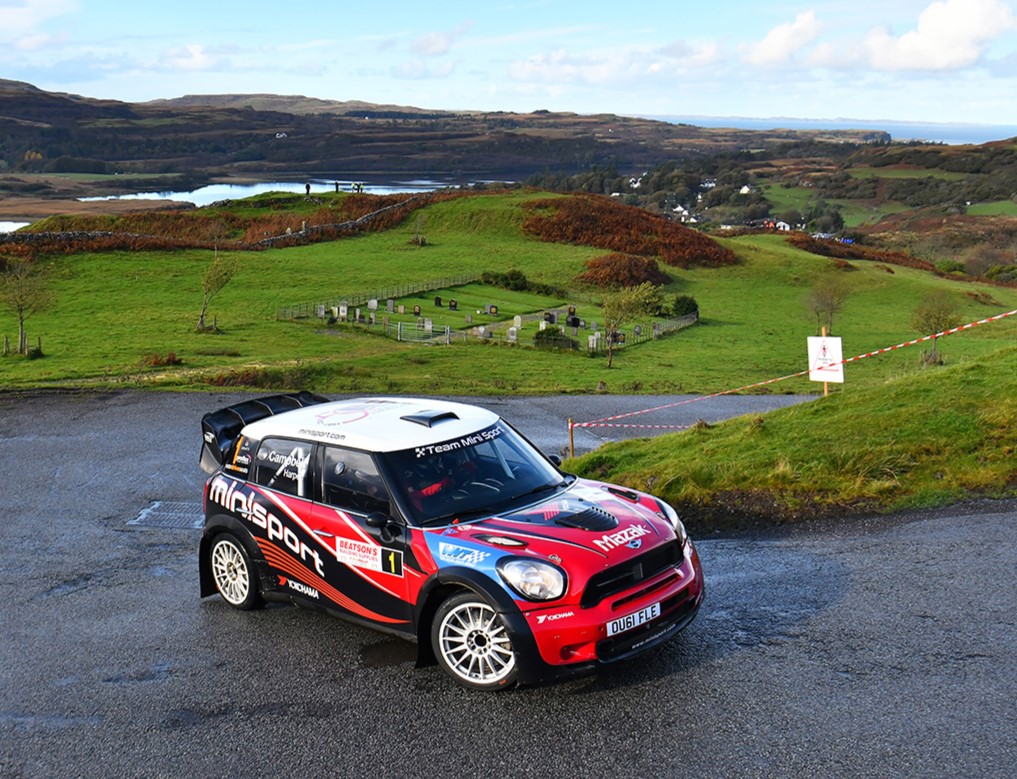 The Beatson's Building Supplies Mull Rally releases its entry list for the 13 – 15 October event
Local heroes set to battle with returning regulars for the coveted victory
Two-time winners Daniel Harper and Chris Campbell lead the field in their MINI JCW WRC
Dervaig's John MacCrone returns to four-wheel-drive in a bid for a third victory
The most anticipated entry list of the UK rallying season has been revealed as the Beaton's Building Supplies Mull Rally unveils its list of contenders for the highly regarded 13-15 October event.
The 51st running of the unique island event will see a lively mix of local heroes and visiting hopefuls, all eager to scribe their names on the coveted Mull Rally trophy which dates back to 1969.
With number one on the doors, 2002 and 2021 winners Daniel Harper and Chris Campbell lead the field of 125 crews away from Tobermory on Friday 13th October, as the pairing return to the island behind the wheel of their crowd-pleasing MINI JCW WRC. The Barley driver also finished second to Paul MacKinnon last year, losing out by less than 10 seconds, so is arguably the pre-event favourite.
But local ace John MacCrone steps back into four-wheel-drive machinery and a Fiesta Rally2 after a brief spell in an Escort. The Dervaig pilot has enlisted the help of British Rally Championship co-driver Dai Roberts, and as well as winning overall in 2013 and 2016, was on-course for a hattrick in 2021 before turbo failure ruled him out.
National asphalt championship runner-up Neil Roskell returns for another shot after taking sixth on his Mull debut last year. He pilots his Fiesta Rally2 with Andrew Roughead on the notes. Jonathan Mounsey and Richard Wardle also return in their Fiesta Rally2 whilst the all-Tobermory crew of Lewis Gallagher and Angus Williams break up the Rally2 machinery with their Mitsubishi Evo IX.
Irish championship front-runner James Ford brings his Citroen C3 Rally2 to the island with Neil Shanks alongside. Ford's last expedition to Mull was in 2019 but ended in retirement so the Preston driver will be looking for a much better outcome this time around.
Star of the BBC programme Island Crossing, Fergus Barlow has raised the bar in 2023 as he steps into top-flight machinery for the first time, the Tobermory man electing to use a Ford Fiesta Rally2 this year. After his 2022 attempt ended with turbo issues on his Subaru Impreza, along with his brother Craig he will be eying a top result and better their fourth place of 2021.
The list is awash with talented hopefuls, with Oban's Stephen Thompson heading up the two-wheel-drive charge in his Ford Escort MK2 whilst Welshman Will Rowlands is back for another Historic Class H3 shot for glory.
Clerk of the Course Richard Crozier believes this could be one of the most unpredictable Mull Rally to date.
"It's a dynamic top ten and a very interesting entry list as a whole this year and I think that will make it even more unpredictable if you are trying to pick a winner from that lot" he says.
"It's no secret that we are missing the likes of Paul MacKinnon and Calum Duffy, but it's a top-quality lineup nonetheless with the local experts likely to be challenged by the visitors, many of which are on top form after strong seasons in their respective championships".
"Many want to come to Mull for the challenge, the experience, the island hospitality and the craic; we are sure they will get it all this year as usual".
ENDS