"Can I hire your car for Donegal?"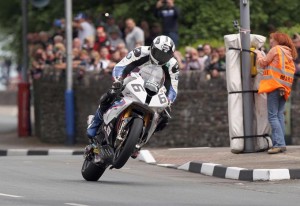 Calum Duffy received a phone call from Barry McKenna to see if he would be interested in hiring out his Escort for the Donegal Rally. Seeing as he wasn't going to be doing it, Calum had no objections. But this beast of a MK11 Escort was going out to a novice rally driver. Mind you, he isn't your normal 'novice': Michael Dunlop has 11 Isle of Man TT victories to his name and has set a lap record of the course at 124mph! Maybe the Escort would be slow?
Calum says, "He was going well for someone who had never driven in a rally before. I was a bit nervous watching the results coming in as knowing the Donegal stages they are really tricky. But then I consoled myself that the car was fully insured and if anything broke it would get sorted."
In the end Michael retired with a damaged engine. He has also been unlucky in hitting a rock in the middle of the road on one stage and bending the axle.
"The engine wasn't ours," says Calum, "Ours is getting fitted now while the car is being refettled. I am going to do the Clare Stages in September to give the car a shakedown and to test Kumho tyres. We have always used a mix of Dunlop and Michelin before and when you are on an event you always stick with what you know, so this will be a good opportunity to see what the Kumhos are like."
Why the possible change?
"We just can't keep tyres on the car over the Lochs stage. Every year, whilst the time might look good, we know that we are losing loads of time through lack of traction. And looking at the route this year, the Lochs are being used in some form or another four times so we have to look at something. That and it is not good financial sense to be destroying two £200 tyres each time we do a 6 and a half mile stage!"