Barbados bound; sensational prize opportunity for two-wheel-drive Mull Rally competitors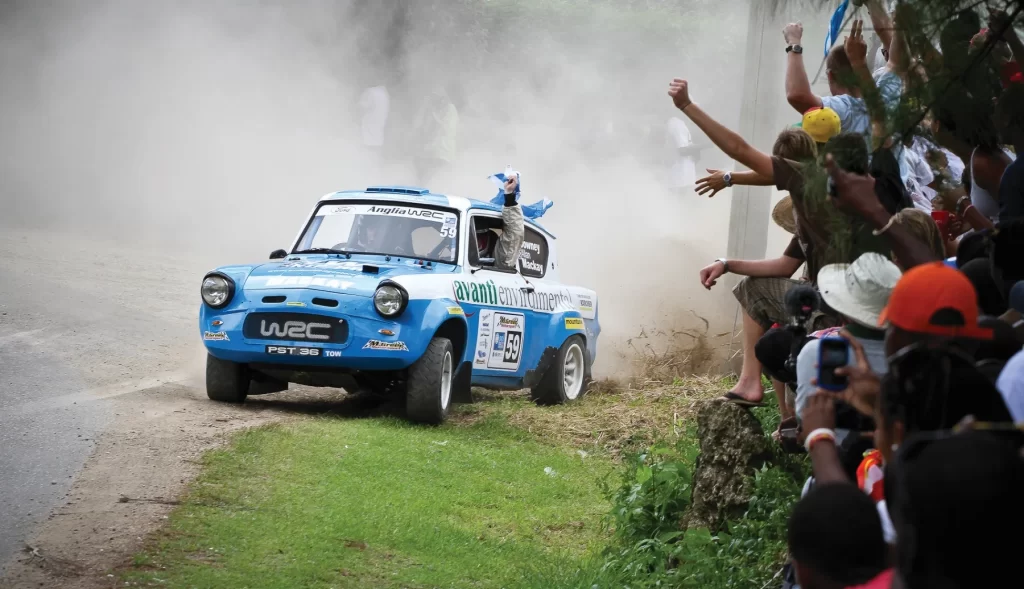 Rally Barbados offers Beatson's Building Supplies Mull Rally two-wheel-drive competitors the chance of a Caribbean trip and entry
All signed-up entrants in front or rear-wheel-drive cars that finish the 2023 Mull Rally are eligible
Prize includes free entry and shipping to the 2024 Rally Barbados
Two-wheel-drive competitors in this year's Beatson's Building Supplies Mull Rally [13-15 October] will be in line to win a trip to the Caribbean and a free entry to the popular Rally Barbados in 2024, thanks to an impressive prize opportunity courtesy of the Barbados Rally Club.
Any entrant participating in this year's Mull Rally in a front or rear-wheel drive machinery will be eligible for the amazing entry prize offer, plus free return shipping from the UK to Barbados for their rally car, if they register before the start of the rally. The lucky winner will then be drawn live, at random from all two-wheel-drive finishers in Tobermory on Sunday 15 October, during the ever-popular prizegiving ceremony.
The prize, offered by the Barbados Rally Club with support from Barbados Tourism Marketing Inc is part of a promotional campaign for the 2024 edition of Rally Barbados which takes place for the 34th time and is set to take place Friday 31 May to Sunday 2 June 2024. The traditional Rally Show and King of the Hill serves as the final shakedown and seeding event on 25 and 26 May and entry is also included in the prize offering; the winner will be responsible for their own travel and accommodation.
This year's Mull Rally will see around two-thirds of the entry tackle the 130-mile – 17-stage event in two-wheel-drive examples and each contender will be eligible for the offering if they have registered beforehand and have been classified as an official finisher.
Rally Barbados Director Neil Barnard will be travelling to Mull, where he will be hosted by one of the Deputy Clerks of the Course Sue Sanders, who has been a safety advisor to Rally Barbados in the past.
Barnard explains: "Mull is a niche, unique rally that shares many characteristics with Rally Barbados: it is an island-based tarmac event run on closed roads and I am looking forward to promoting Barbados, our event and also getting an understanding of the challenges the organisers face and more importantly how they deal with them.
"I hope the prize drive will attract a good response. The random draw means any 2wd finisher can win and not necessarily the fastest, so there's a terrific opportunity for one of Mull's loyal clubman supporters to come and enjoy our event. We will also draw a couple of reserve drivers in case the winner finds it impossible to make the trip."
Beatson's Building Supplies Mull Rally Clerk of the Course Richard Crozier said: "This is a tremendously exciting initiative, and we extend our huge thanks to the Barbados Rally Club for putting up this mega prize. Rally Barbados has grown tremendously in global stature from its inaugural running in 1990, and likewise the Mull Rally, formerly the Tour of Mull, has a proud history dating back to 1969, developing a passionate following both in the UK and overseas.
"Rally Barbados has seen a good number of Scottish and UK crews head across the Atlantic to compete over the years, all of whom have returned with big smiles and plenty of stories to tell, so this is a great opportunity for one of our 2WD crews to sample that. There are huge synergies between the challenges both events face as island-based sporting and cultural events, and we can't wait to extend Neil a warm welcome to Scotland in October and continue to develop this nascent partnership."
-ENDS
Eligible competitors can register here: http://eepurl.com/ipmuDs