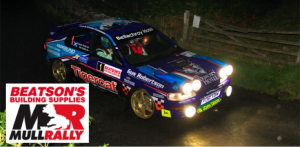 12 hours till it was more than full
12 hours. 12 hours, that is all it took for 177 entries to be received for 2016 Beaston's Building Supplies Mull Rally. Now that definitely took us by surprise!
It is really encouraging to see that response and desire from competitors wanting to take on the challenge of the Mull Rally. We all know that Mull is known as a challenging event in the far flung corners of the earth but it's great that so many want to participate
Duffy still hasn't managed to get his new car to turn a wheel yet. Not to turn a wheel in anger, it hasn't run yet so that is going to be an interesting first stage. John MacCrone is still working on a deal for a car. Does that not always seem to be the case and Paul Mackinnon has entered in that really fast TBA.
Then there are the entries that have really caught folk's imagination: Frank Kelly and David Bogie in their respective MK2 Escorts. They had a great battle on the Donegal International Rally, where David came out on top but thanks to support from various corners we now have both on the island in October.
Anyone want to help with the seeding of this lot?