David Thomas Cabena, 1946 – 2015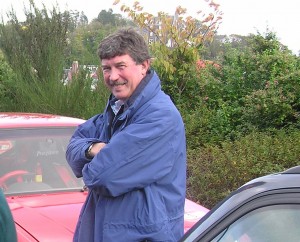 Sad news from the deep south, in Buckingham, where Dave Cabena passed away on Monday of this week in hospital after a very short illness. Many of you won't recognise the name, but anyone who is a fan of the Tour of Mull Rally will recognise it instantly.
He navigated on the very first Tour of Mull Rally way back in 1969 and every year till he stopped in 2009, becoming the only competitor to have contested 40 consecutive Mull rallies, a record that is highly unlikely ever to be broken.
He started navigating in the late 60s and then co-drove for numerous drivers over the next 40 years including Geoff Wright, Keith O'Reilly, Jim Dewar, Kevin Gibbs, John Lloyd, Miles Jude and many, many more, including a couple of British runs with Japanese driver Atsumi Yoshida.
In 1992, the Lombard RAC Rally was based in Chester and I was working in the Press Office when I bumped into him. The smile was ever present and he was bubbling with enthusiasm at what lay ahead. He couldn't speak a word of Japanese and Atsumi's grasp of English was pretty basic, but they got on like a house on fire – most of the time.
He did however keep some 'dubious' company at times which led to him taking up again with a former driver in the 90s and early 2000s, a certain Mike Hibbert who in fact was originally from Ayrshire and won the 1968 Scottish Rally Championship. Dave had co-driven for Mike in the early days, but Mike had acquired a David Sutton prepared Ford Cortina Mk1 for Historic events and asked Dave to come along for the ride. The mere mention of the name 'David Sutton' is enough to strike fear into the liver of any hearty rallyist, but Dave managed to survive, and enjoy, the energetically convivial atmosphere surrounding 'Sooty' and his entourage. Despite that, Dave and Mike were highly competitive and very successful.
In 2009 he retired from his construction business to take up a new challenge and return to his first love, motor racing. He acquired a bright red 1965 Alfa Romeo Giulia Sprint and for the past four years has been racing the car in HSCC events right across the country. Quite successfully too.
But he will be best known up here for his annual pilgrimage to Mull.
He navigated originally for Geoff Wright and then Keith O'Reilly on the early Mulls, but in 1990, the first year of the Closed Road event, he found himself without a driver and phoned Taff Edwards, the irascible 2300 Club Secretary. It just so happened that Taff knew of a driver who was looking for a co-driver, one Chris Paton Esq. Oddly enough, Chris had contested all but one of the previous Mulls so this was an ideal match and Dave co-drove for Chris till they both quit in 2009. Dave had made his '40' while Chris was the second longest Mull competitor with 39 notches on his gearstick.
Andy Knight scored a superb victory on that historic event in his Vauxhall Nova head of the Escort of Ron Beecroft while Robin Hamilton was third in his Sunbeam. As for Paton and Cabena they were holding fifth place overall in Chris' Sunbeam until early on the final leg of the rally when the poor wee tortured Talbot blew its rear axle to bits going up the Hill Road hairpins. What they did prove was that the new combination was extremely competitive.
The following year they finished 18th overall in the Sunbeam despite rolling it in Fishnish. The car landed on its side but was pushed back on to its wheels although Chris noticed that Dave had a footprint on his helmet after wards!
That was probably the highlight of the Sunbeam's career, as the next two events resulted in non-finishes before they scored a hard fought 42nd o/a finish in 1994. For 1995 they returned in a 1300cc Vauxhall Nova and promptly won their class finishing 22nd overall. Honour restored.
Another class win followed in '96, then a top 20 finish (19th) and 3rd in class in '98. In the turn of the century 2000 event they finished 29th and 4th in class, then 27th and 2nd in class in '04 and 29th and 3rd in class in '05, but the writing was on the wall. There was a new breed of younger, more committed driver coming through the ranks, ones who 'recce'd' the roads during the summer months and appeared with ever faster cars and stickier tyres. The fact that Chris and Dave were still competitive in a home-built, unsophisticated club-spec Nova on budget tyres was down to excellent teamwork, but both felt it was time to call it a day.
They'd had a good run and acquitted themselves well, time to sit back, spectate and enjoy the atmosphere – especially from inside the MacDonald Arms.
Dave was a meticulous co-driver and a pretty handy driver in his own right. He was also a true gentleman, a genuinely warm bloke, good company and a kind friend. And apparently he was also considered rather 'dashing' by the 'girls'.
There's a passage in Brian Molyneux's book which highlights the motley collection of drivers and co-drivers who turned up each year to sign on with 'the ladies' of the 2300 club and apparently 'the ladies' had their favourites. According to Brian, Dave and Chris "figured prominently with their courtesy and old-fashioned charm" although it is disputed as to which one was" devastatingly good looking" and which one "needed a good mothering". Sadly that argument will never be concluded.
Our thoughts must go out now to his wife June, daughters Karen and Hazel, relatives and huge circle of friends.
(reproduced with permission from www.jaggybunnet.co.uk)