2014 Mull Rally to Support Marie Curie Nursing Services
This year the Mull Rally will be supporting local Marie Curie Nurse Louise Thomas in her quest to highlight the nursing service that is available to the Mull and Iona community.
Louise will be competing in this year's event in The Marie Curie Mini, supported by www.minisport.com and www.motordrive.com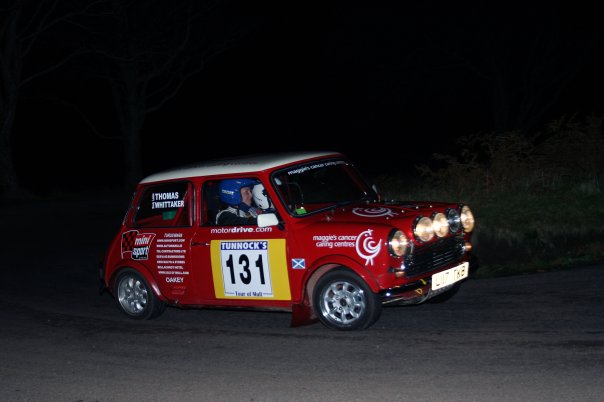 Louise's goal is to raise awareness in the community that this service is available and also to raise vital funds to support the service. Here's what she had to say:
"I first came to Mull over 40 years ago with my parent who were involved with the rally in the early years, the passion for the island and the rally was passed on to me as a young girl, I have lived on the island now for 17 years."
"I have worked on the Island as a Marie Curie Nurse for the last 3 years, My job involves providing vital end of life care and support to patients and their families in their own home. Those I care for could suffer from any terminal illness not just cancer, illnesses like motor neurons disease, dementia, anything."
"I was inspired to become a Marie Curie nurse after my Mum passed away six years ago at the age of 55, from breast cancer. I had not experience someone dying so close to me and my Mum was my best friend, she was looked after by specialist nurses and they made such a difference to me and my family. So when the job for Marie Curie was advertised I thought I would go for it and I was lucky enough to get the job."
"I wanted to work for Marie Curie to make a difference because it had made such a difference to me and my family. It is an honour and a privilege to look after people at that particular time in life."
"You go through so many emotions, I can remember crying but also laughing because we were reliving memories – just to have someone say that it was alright to laugh was so important, someone who understood what we were going through."
"As a Marie Curie Nurse you are given a great deal of training which is fantastic and vital but I think this type of nursing comes from the heart. You can fell lost as I did, but nurses guided us through the process of Mum dying and that is what I do as a Marie Curie Nurse now."

A nationwide nursing network
The Marie Curie Nursing Service helps people who are approaching the end of their lives to remain at home if they wish to, through its nationwide network of Marie Curie Nurses who provide nursing care at home.
We cover 95 per cent of the UK. Our service is free to the people we care for, their families and carers. Our core service is one-to-one overnight nursing from a Registered Nurse or Senior Healthcare Assistant in a patient's home, usually for eight or nine hours. In some parts of the UK, we can also offer shorter shifts, evening shifts and day shifts.
"People say it's fantastic to raise money and yes it is, that is one of my aims, but if care is needed Marie Curie will provide it, So awareness I believe is the most important thing. I want to make a difference to people, It is a very special job and I'm very lucky to do what I do."
"So this October I will be getting into my wee mini and taking on the challenge of The Mull Rally. The Mini is being completely rebuilt and transformed for the event. I am grateful beyond words for the support of The Mull Rally this year, and I believe this support is going to make a very big difference."
"Marie Curie has a Fundraising Group on Mull and Iona and I will be updating the Facebook page with information on the rally and how preparation for the event is going."
"If you would like to sponsor or support my quest you can contact me by email louisethomas529@btinternet.com or Tel: 07770 962804."
"For more information on Marie Curie have a look at the web site www.mariecurie.org.uk If you would like support from a Marie Curie Nurse please speak to your local District Nurse who can refer you."