iRally Radio LIVE at Mull
iRally Radio will be LIVE next weekend in the northern isles of Scotland the Tunnocks Mull Rally will be broadcast live worldwide via the iRally platform.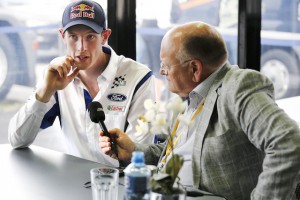 Despite the recent passing of the founder of iRally and iRallyLive.com Greg Strange, who also brought Live Rally Radio to fans worldwide back in 2002, there was never any doubt that the team would honour a long standing agreement with the Rally Organisers.
Speaking this week Olivia Strange, daughter of Founder Greg said "One of the first decisions that my Mother and I made when Dad died, was that iRally would continue. That decision was made more emphatic with so many good wishes and loving messages that we have received this week in which it is evident so many people loved him and what he gave to people. The decision for us to be in Mull next week was an easy one to make, and we hope that everyone continues to enjoy what Dad created."
For Mull Rally Director Iain Campbell it is news he was delighted to hear and said "In view of the fact we have lost a pioneer in how rallies were covered live on Radio with Greg's death, it is superb to hear that the iRally Radio team will be with us on Mull, and not only will they broadcast live on the event, we will do our best to remember Greg and celebrate his life and what he brought to us. It will not be the same in Tobermory next Friday, and the tweed jacket and microphone will be missed for sure, but it is great news that the team will be with us."
The team for the Tunnocks Mull Rally next weekend will consist of Peter Silberberg, Xav McCartan, Campbell Cameron and Kirstie Marshall. Peter has worked with Greg for many years and will host the coverage from his base in Tobermory, while Campbell will cover the Service Areas as he has done in the past for iRally while Kirstie will join Xav on the stage ends and bring her experience on the Scottish Rally Championship and work with Motors TV to the event.
For Xav, who has worked with Greg for many years on rallies worldwide, it will be the perfect way to ensure that rally fans know that iRally will continue and said "Gregs death was a huge shock to so many people worldwide, considering what he brought to rally fans everywhere. To be in Mull, a place he really loved and continue his work and vision is not only right and proper, but more so with the endorsement from his wife Eiddwen and daughter Olivia that iRally will carry on."
Full broadcast times will be released in due course, but for now it is with delight, pride and excitement that we can say "iRally Radio will be in Mull next weekend."
You gonna join us…?