Imagine you had to have your car prepared for Mull 51 days before the rally?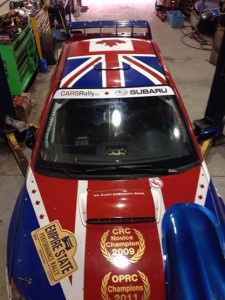 Canadians, Nick Matthew and Kelly Matthew had to do just that, their Subaru was prepared to go into a container for the trip across the Atlantic to Mull on 20th August, a full 51 days before the rally started. Two and a bit months in advance…..in all honesty, Eddie O'Donnell has admitted that having his car ready for scrutineering two and a bit hours before is ambitious!
Great to see the Empire States Performance Rally winners coming to the West Coast of Scotland. Anyone want to help with where we should seed them?