Caledonian MacBrayne continues support for Mull Rally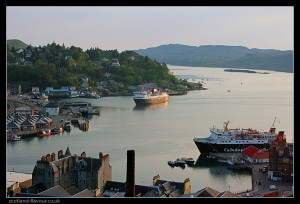 As the build-up to the 2015 Beatson's Building Supplies Mull Rally ramps up, competitors can again take advantage of excellent support from ferry operator, Caledonian MacBrayne on both the Oban/Craignure and Lochaline/Fishnish sailings.
With 300 competitors entered into this year's rally — which runs from October 9-11 — and 150 rally cars needing to get to the island, the travelling logistics are understandably considerable for this popular clubman rally.
With the rally cars requiring to be trailered by the team's support vans for the start on Friday, October 9, travel costs are one of the most significant parts of the entrant's budget. Therefore, vans that are under 5 metres in length will be allowed to sail to the island at normal rate; and and any van under 5m towing a trailer under 8m will be charged at the published rates.
Those teams with a bigger tow vehicle that is over 5m will be charged at the commercial rate, while those with a trailer will again be charge for a total length of under 8m.
These represent significant savings on the published rate for van and trailer of either length.
"We recognise the considerable economic impact the rally has on the island, especially at a time of year that is towards the end of the traditional tourist season," Peter Griffiths, marketing manager, Caledonian MacBrayne, said, "and we want to ensure we can assist in continuing the great support that the rally has had for 46 years.
"We know that by encouraging new visitors to the islands, and by showing off our services, we have a really good opportunity to entice these people back throughout the year to come and see all that the islands off the west-coast of Scotland have to offer."
The 2015 commitment from Caledonian MacBrayne was welcomed by Iain Campbell, Clerk of the Course, Beatson's Mull Rally.
"To be able to secure support from Caledonian MacBrayne means we can look to help our competitors in their journeys to Mull," Campbell said. "Rallying is not a cheap hobby and Mull — by its very nature of being on an island, and being one of the longest and toughest rallies in the UK — means our crews have to make a considerable commitment just to get to the start ramp.
"But the support from Caledonian MacBrayne is not just to assist our competitors but also to ensure our rescue services, doctors and paramedics, without whom we could not run the rally are able to reduce the on-event costs to us with the help from the ferry company."
Competitors need not take any action to be eligible for the above savings but these will be processed at both ferry terminals when the vans and trailers are presented for boarding the vessels.
Caledonian MacBrayne Terminal staff are aware of the offers available and will action these on the day.
Details on sailings can be found at www.calmac.co.uk