BBR Rallying Fiesta R2 Ecoboost gearing up for Mull Rally
Kinross youngster Blair Brown and Richard Simmonds of Duns are heading this weekend for the Beatsons Building Supplies Mull Rally, one of the toughest rallies in the British rallying calendar. Backed by QTS Group this will only be the duos second outing in the first privately built M-sport Ford Fiesta R2 Ecoboost.
Brown appreciates this is a really important event for them as they face the daunting challenge of competing over 160 miles on some of the most demanding asphalt stages known to man. The rally based on the isle of Mull will take place on the 9th, 10th and 11th of October, on the single track public roads around the island. While the event runs the roads will be closed to the public, and speed limits abolished as competitors complete the stages as fast as possible.
Blair said "I've never entered the Mull Rally before so we'll be taking the event one stage at a time. This is only our second event in the R2T and Mull is notoriously tricky. This year has been a development year for us to get to know the car and get to grips with our new notes system in preparation for competing in the MSA British Rally Championship next year. What we are looking to achieve is a smooth run with some respectable times but most importantly to bring the car across the finish line in one piece."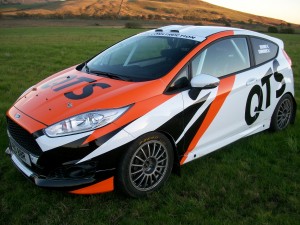 This will also be the first time on Mull for co-driver Richard Simmonds who says he is up for the challenge. "We are taking a few days before the rally to do reconnaissance. The Mull roads are twisty with a lot of crests and jumps so we will have to stay fully focused from start to finish. A small mistake could prevent a finish and that's not the plan!"
This will be the 46th edition of the Mull Rally and the first year of association with Beatson's Building Supplies as the title sponsor. The route offers eighteen special stages and 160 competitive miles over two nights split by an afternoon of action. There are fewer stages than last year but there is more stage mileage covered to ensure the challenge of Mull has not diminished.